Purpose
In order for a 365Dining device to support Order Ahead functionality, certain pieces of hardware are required. There are also optional pieces of hardware that can be used to increase the functionality of your Dining location. 
To use the 365Dining Order Ahead feature, a location MUST have specific hardware components and configurations in place. The Order Ahead solution will require your kitchen staff to work from KDS (Kitchen Display Systems) and/or printers to prepare menu items for pickup without prior consumer interaction. 
For information on other 365Dining Hardware, please see the ReadyTouch Hardware Guide
Please see the 365 Dining - Locker Hardware Guide for information on locker hardware.
Required Hardware
ReadyTouch (Elo X3)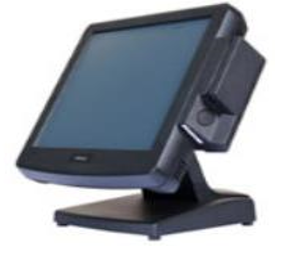 The ReadyTouch is most commonly used in either cashier service or self-service mode with the Order Ahead setup. The ReadyTouch is used as a communication point to process orders placed via cashier service, self-service, the 365Pay app, or website and send them to the KDS for preparation.
Can be used as a register or a self-checkout kiosk
Used to process the remote orders that will be sent to the KDS and posted to ADM
KDS 15" Touchscreen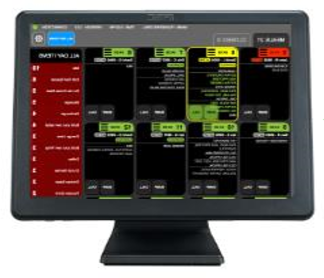 At least one KDS is required. Optionally, the operator can have multiple.
The KDS acts as the central repository for incoming orders. The KDS also provides a digital ticketing system to assist with managing orders and a consumer-facing display to indicate where each consumer's order is in the queue.
The KDS is a touchscreen device that provides staff with the tool to efficiently manage incoming orders. If you have multiple KDS', you may assign each one a station, such as deli, grill, etc. Orders for that particular station will then appear on that station's KDS. 
Touchscreen panel device
Used to manage ticket orders for kitchen
Separate KDS screens may be used for different sections of the kitchen (grill, deli, etc.)
Helps manage incoming orders efficiently
Router Options
If using a local network, the local network administrator will need to verify the network is configured properly. See the Network Requirements - 365Dining / ReadyTouch article for more information. 
| | | |
| --- | --- | --- |
| Meraki Z3 Teleworker Router | OR | Meraki Z1 Router |
Optional Hardware
Bematech KB9000 Bump Bar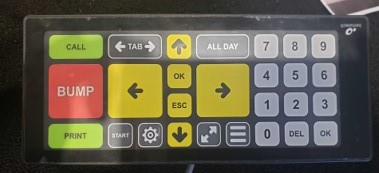 This connects to the KDS and allows kitchen staff to bump tickets, call tickets, etc. instead of touching the KDS screen directly.
Touchscreen

Connects directly to the KDS

Allows Expo person to bump tickets to different stations or off the screen completely.

Users can use this instead of the actual KDS touchscreen so they do not get the touchscreen dirty.
Chit Printer Options
These printers create chits for takeout or delivery orders.
| | | |
| --- | --- | --- |
| Epson Impact IP Kitchen Printer – TM-U220B (Preferred) | OR | Bixolon SRP-275IIIC Serial/IP/USP |
Now Serving System
The Now Serving system requires two parts: a display screen, and a PC to manage data. 
32" Display Monitor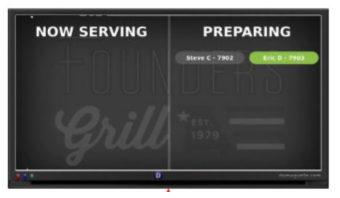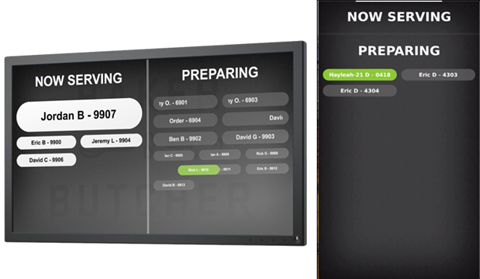 When the CALL button is used on the KDS, the consumer's order will flash green, slide out of the Preparing section, and slide onto the Now Serving section of the screen.
can display in landscape or portrait mode
AOpen DE3450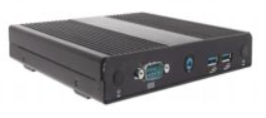 The AOpen PC can connect to any HDMI-enabled screen to display the consumer's orders as they are being prepared or ready for pickup. It is intended to provide consumers with a view of the current status of their order.
Needed for the Now Serving Screen
allows the order information to flow through and the monitor displays orders that are currently ready for pick up and orders that are being prepared
8-Port Switch

Only needed if an operator has more than four IP devices in their kitchen environment

All of the devices MUST be on the same LAN (managed by the router) in order to work. 
Setup Diagrams
Order Ahead Setup with One Expo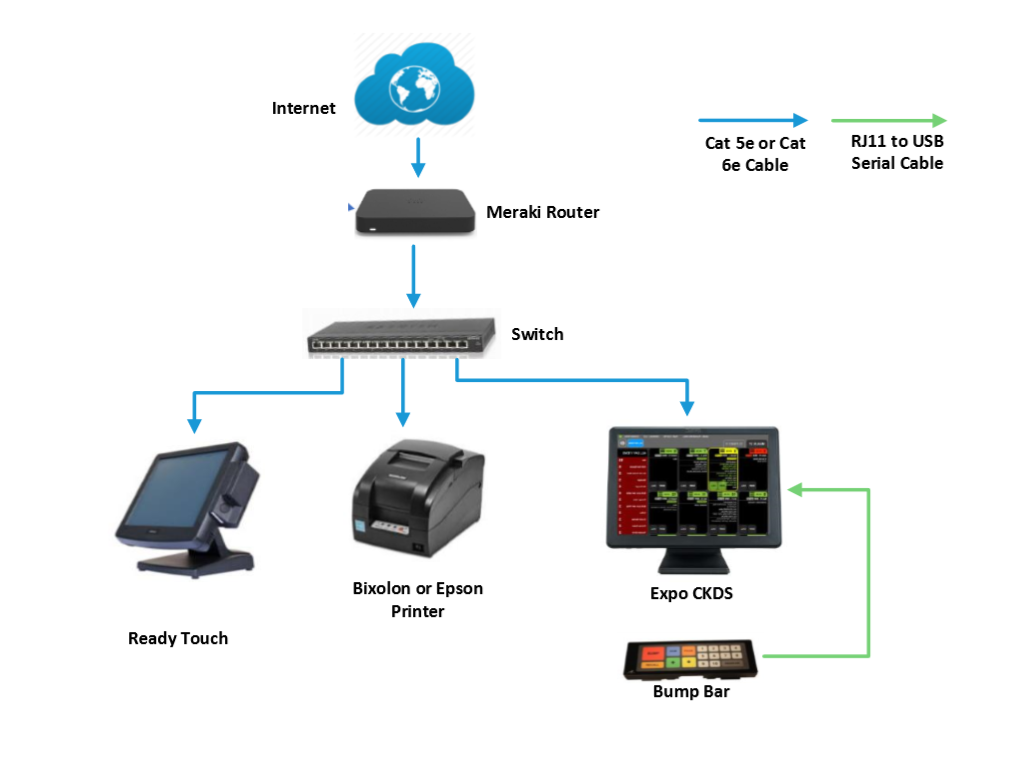 Order Ahead with Multiple Expos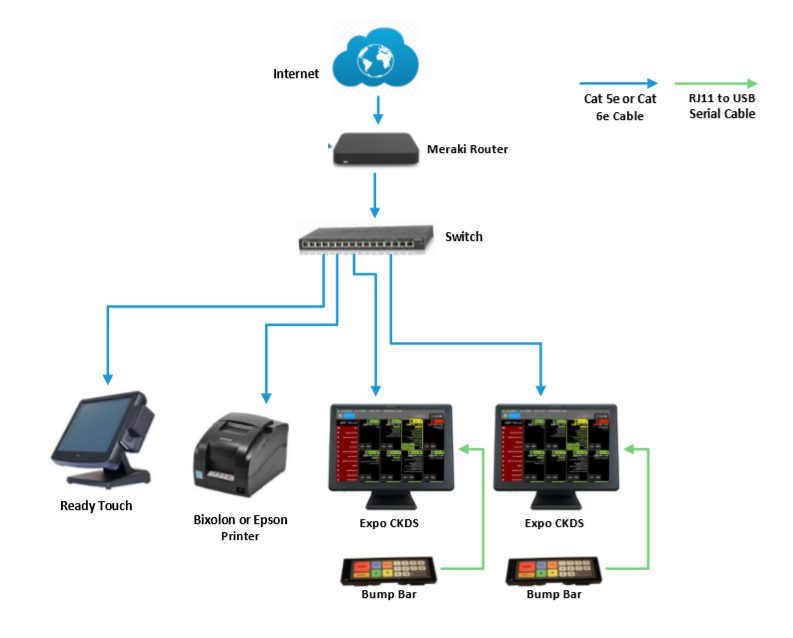 Order Ahead with One Expo and Now Serving Screen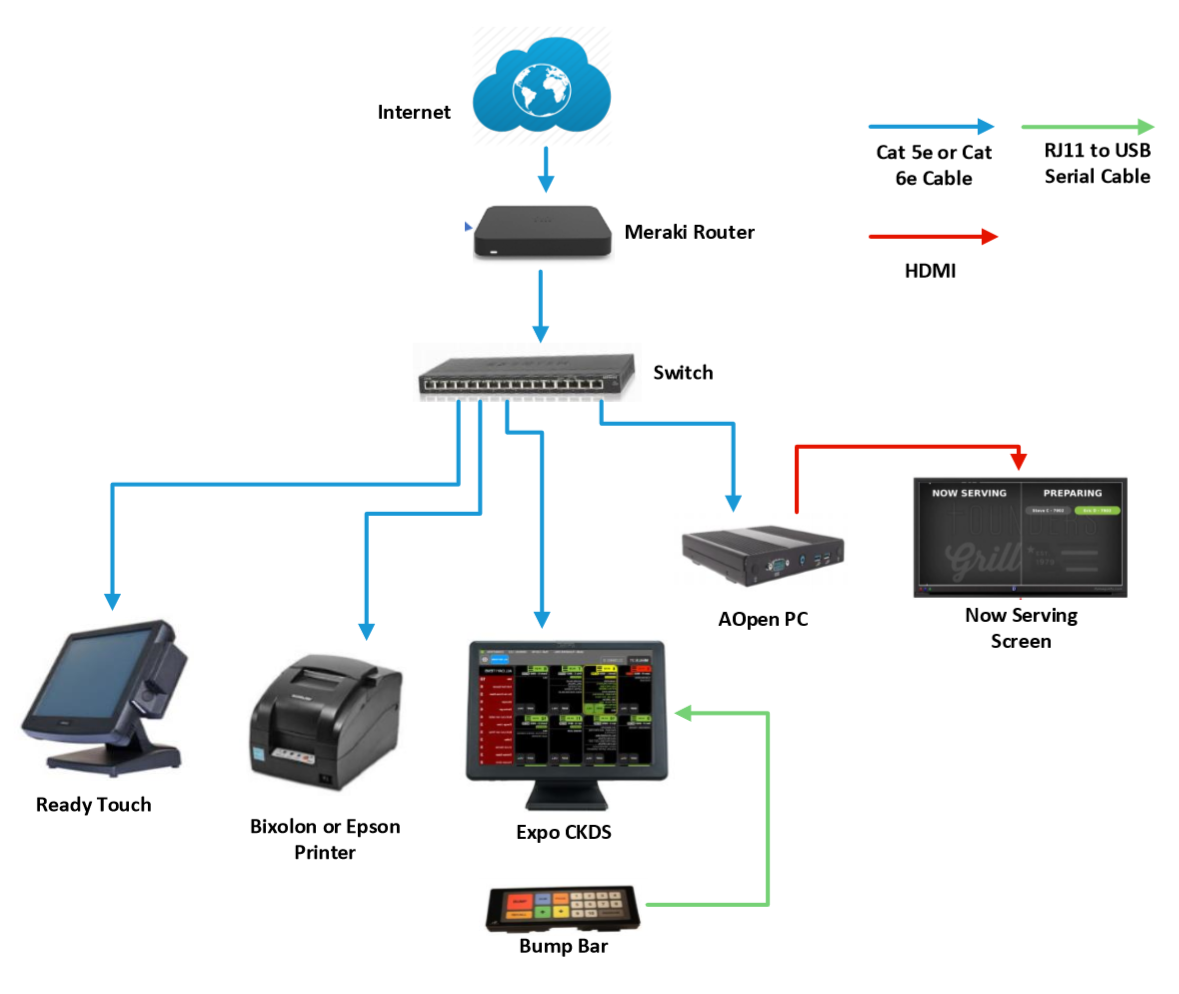 Order Ahead with Multiple Expos Now Serving Screen

Cable Connections
Below is a diagram of how the hardware components connect.