Implementing Product Coupons and Kiosk Billboard Commercials 
Kiosk commercials have many benefits, including:
Add value to your market—Coupons can be extremely beneficial regarding customer relations, customer service, and increasing revenue in your
Create excitement—Coupons create excitement, and consumers love to get more value for their dollar.
Keep it fresh—This module discusses different options for which you can use coupons in your market.
Add a personal touch—If you have a large or important account, consider adding a personal touch by creating coupons with your account's corporate branding, or even the employees name. Doing so incorporates an emotional bond with the
Increase revenue—With coupons we all know this creates lift in product
Coupon

Types

There are two types of coupons you can create for your market:
Recharge your market card coupon—For example, you provide or the employer provides the employee with a $10 coupon, and they can load that full amount onto their Avanti Market
Implementing employee recognition coupons is an easy and convenient way to reward employees or thank them for their efforts on a daily, weekly, monthly, or annual basis. You can create coupons with any amount and with any expiration date for up to a year. Examples of recognition include, birthdays, safety records, employee of the month, employment anniversaries, and appreciation for a job well done.
One-time use coupon—This is normally given to guests who come onsite and are only visiting for the day. This coupon works during one, single transaction; for example, if the coupon is worth $5.00, they can only use the coupon once, to purchase a soda for $1.00. However, if they want to return to the market later in the day to buy a bag of chips, the coupon will NOT be
This is a convenient way to provide corporate visitors a single-use lunch or refreshment for occasions such as, board meetings, guest visits, or business meetings. Companies can define the amount preloaded on these cards, but are billed only the amount purchased/used.
Clients can reward employees during the holidays with Market Coupons:
Helps support the local micro market (you)
Helps people stay on site
Instant gratification
Fun employee perk that everyone can easily enjoy!
Coupon Order Forms and Templates
The following figure is an example of the personalized coupon program order form. Provide this form to the HR manager or main point of contact for each account, that way you can create multiple coupon at once. We recommend reaching out to your accounts every 30 days to ask for an employee Birthday list or a recognitions list for which the company may want to provide coupons.
You can also send them a communication letting them know the benefits of having a guest pass or corporate lunch pass on-hand, just in case any VIP's visit and want to try the market.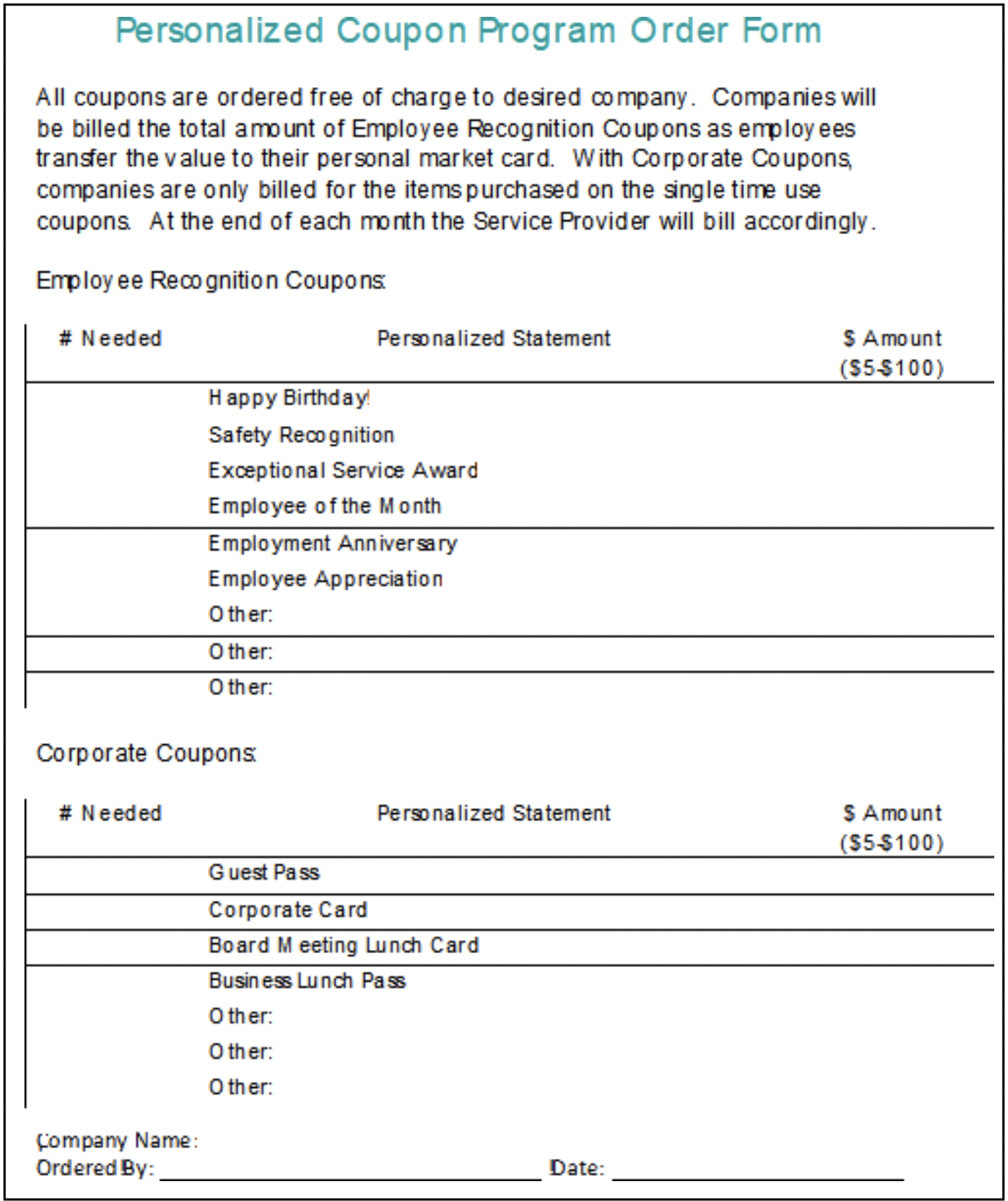 Figure 1: Coupon Order Form
Creating a Coupon Template
1. To create a coupon template, open AMS, on the DASHBOARD menu bar, selectCAMPAIGNS, and then select COUPON TEMPLATES.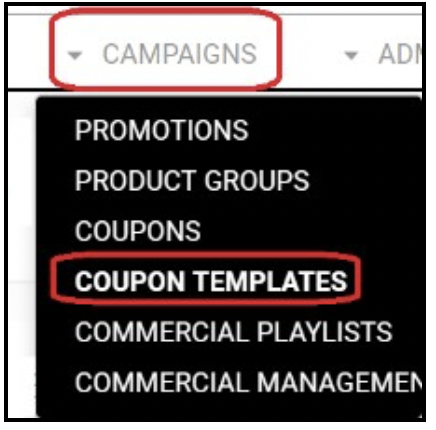 2. Select NEW COUPON TEMPLATE.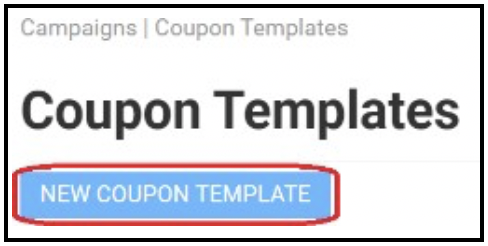 3. Define the COUPON TYPE (recharge or one-time guest pass), complete the remainder of the form, and then click Create.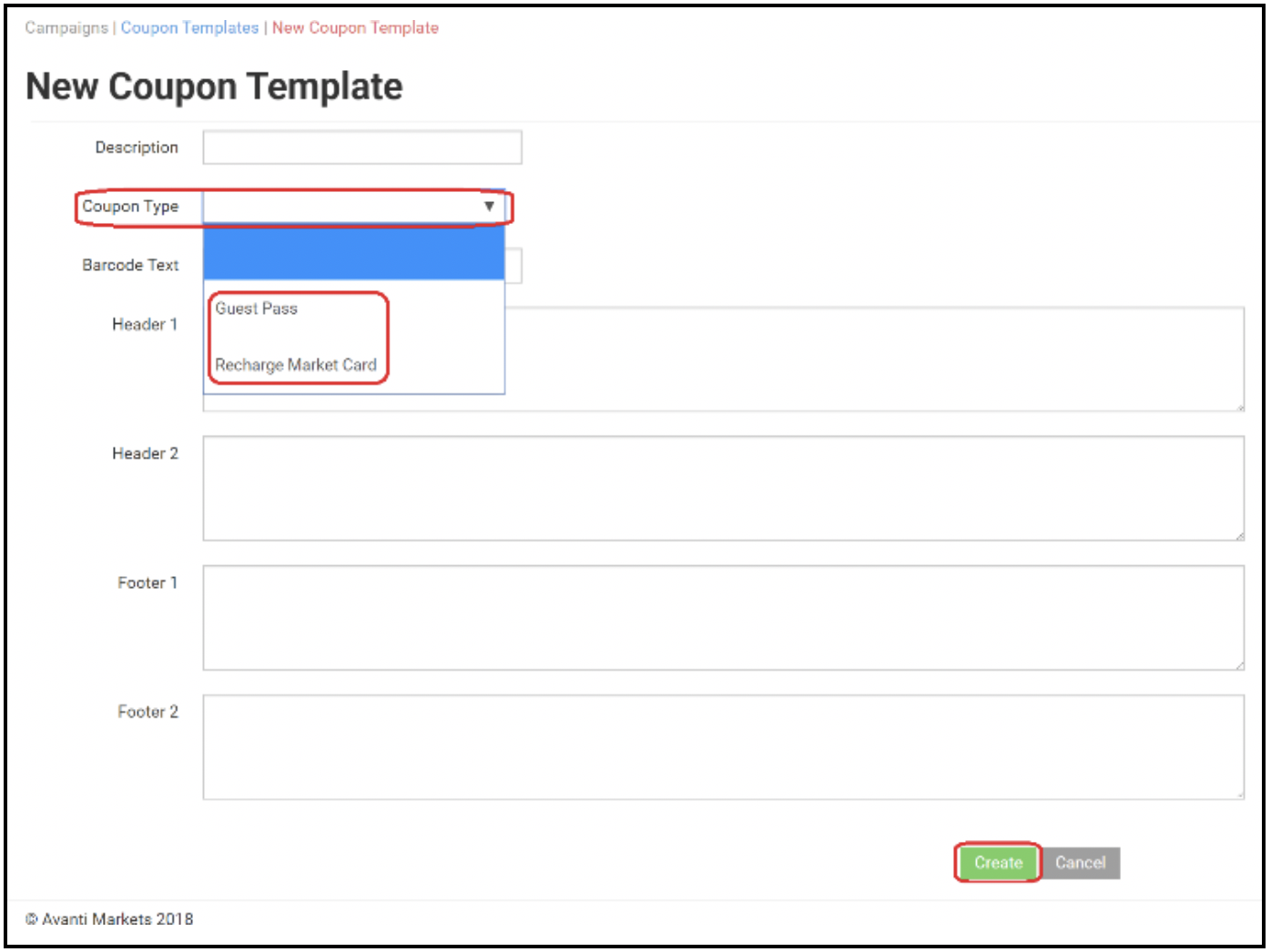 Creating a Coupon
Define a location, and a description.
Define a Discount Type, select either an amount or a percentage.
Set the Minimum and Maximum purchase amount. For example, if there is a limited number of items purchased per person, then reflect that in the Maximum amount.
Complete the Reason and Contact information, Start/End Date, and the QTY you want to print.
When complete, click Create.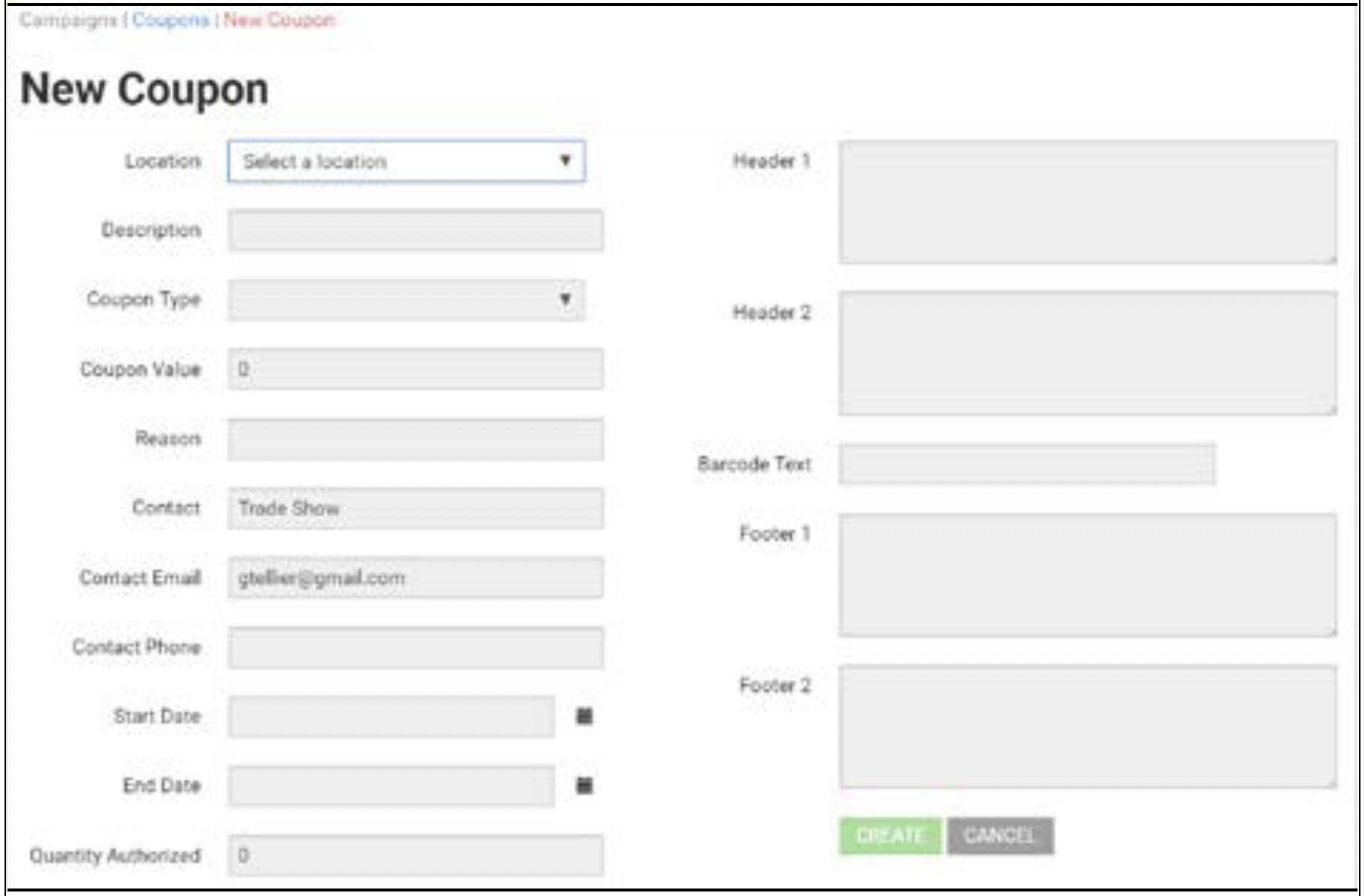 Printing Coupons
Head to (insert article link on zendesk), and open the custom coupons uploaded by Avanti

Use one of the following print options:
Use regular paper and print front and back, and then hand trim the coupons
Shrink it down to fit an Avery Template 8371 in Adobe PDF viewer
Take the file to Kinkos or Staples for printing and processing
Email the template to Staples ($20 for about 500 coupons)
Implementing Kiosk Billboard Commercials
Clearly communicate promotions, sales, and discounts
Provide instructions on "How to Steps"
Swap-out commercials for holidays and seasons
Customize the screen for a special event, like someone's birthday
There are so many benefits to changing out commercials regularly. You can provide your location with instructions, show promotions, direct them to your social media page, and even provide links to take a survey which provides you with insightful information to better improve your market. The potential is endless.
Everyone uses commercials and can see the large selection in AMS from which you can choose. However, you can also create these commercials and customize them yourself.
Creating New Commercials
1. Start in Microsoft PowerPoint. Open a standard slide and build on it or if you have Adobe photoshop/illustrator that works as
2. Once you complete the design, save the PowerPoint file as a .JPG and size it using 1250x650.
3. Log into AMS, click CAMPAIGNS, click COMMERCIAL MANAGEMENT, and then click NEW COMMERCIAL.


4. On the New Commercial dialog, enter a Name, set an Expiration Date, click Choose File navigate to your JPG file, and then click CREATE.
Creating a Commercial Playlist
Use AMS to control the length of time your commercials display on the screen, the order the commercials display, and remove a commercial from a playlist.
1. Log into AMS, click CAMPAIGNS, click COMMERCIAL PLAYLIST, and then click a playlist in the list to open and
2. Click ADD COMMERCIAL, at the Add Commercial popup menu, click ADD next to the commercial you just created.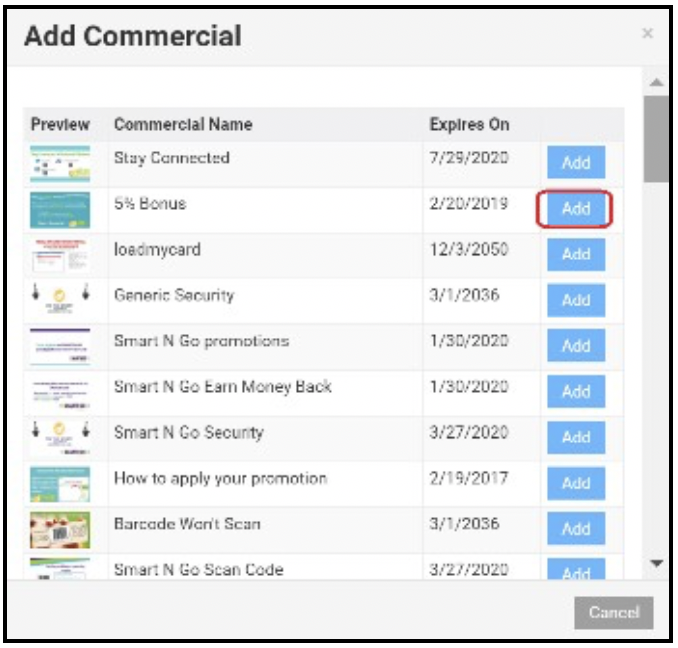 3. Define the Duration and the Order for the new commercial.