Overview
Digital and printed receipts, that consumers receive after a transaction, can have an image shown. This typically would be used for the company's logo. A 365 agent must enable the setting and load the desired image.
Digital Receipt Logo Example




Physical Receipt Logo Example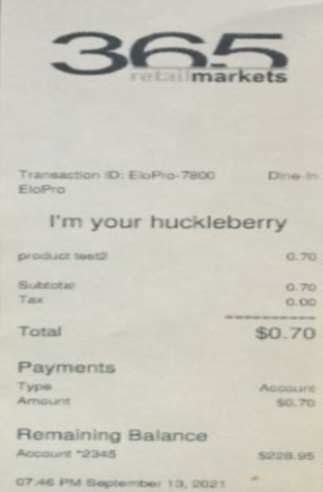 Image Parameters
Settings for Logo Submission
Image Types
Adobe Illustrator: .ai
Bitmap Image File: .bmp
Scalable Vector File: .eps
PDF (if logo is vector in file): .pdf
Image Resolution
Minimum resolution for a receipt image:

609px wide by 609px tall
Preferred Colors
The printed receipts will not print in color.
One color version

A dark color version would also be acceptable
Printer Settings for Logo
These settings should be stored on the printer for the logo to display properly.
Maximum logo image file size (to store directly in NV memory of Printer):

256 kb




16 scale, bmp at 203dpi
Upload Receipt Image



Since printed receipts can only use a one color or dark color image, we offer the ability to set the digital receipt image file to be different than the physical receipt image file within ADM. We also offer the ability to set images at an organization level or at a location level. Please contact 365 Support via phone (numbers are provided by country in the footer of this page) or email (support@365smartshop.com) and provide the image (within the parameters defined above).