Overview
CoolBlu offers a cooler option for the PicoCooler device. This article will walk through installing the Pico device on the cooler.
Mounting Kit
A mounting kit (kit part SAI710) is needed to mount the Pico to the cooler.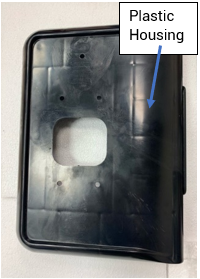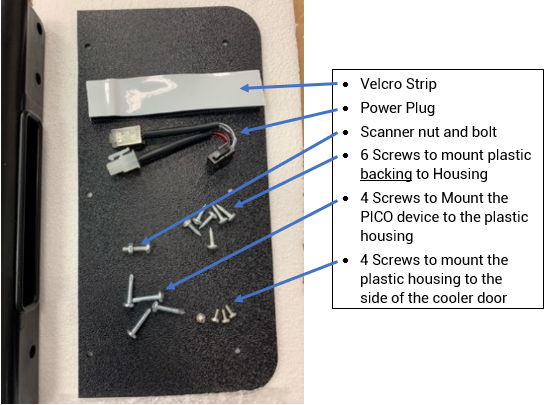 Process
Power down the cooler before installing the hardware.

Remove the plug from the right side of the glass door next to the handle.
When the plug is removed, you will see the two wires. The first is for power and the second is for the antenna.


Take the plastic housing and lay it over the right side of the door, over the handle. You can see the handle fit into the existing door handle. Make sure the wiring coming from the door is slotted into the cutout space on the bottom of the plastic housing.

Use a 1/8" drill bit to make pilot holes for the four tapping screws provided. Be careful not drill too deep as to damage the wiring. Using the plastic housing as a template will allow you to matchup the holes that need to be drilled.

If you are using a cellular (SIM) connection, be sure to install the SIM card prior to installing he Pico. The SIM should go into SIM slot 1 on the back of the Pico device.

Take the plastic housing and mount the Pico device with the four supplied screws and the scanner housing with supplied nut and bolt.

Connect the supplied power harness and the antenna to the Pico device.


Connect the harness to the cooler and route the wires down towards the handle in the cutout channels.

Place the cover on the back, making sure not to pinch the wires.


Install the six supplied screws. The wires should run between the bottom two mounting holes in the cutout grove of plastic housing.


Attach the Velcro to the outer edge on the backside of the plastic housing.

Install the Pico housing onto the cooler door using the supplied four self-tapping screws.


Leave somewhat loose so you can pull the unit away from the glass and remove the tape from the Velcro strip.

Peel off the tape and press the housing firmly to the glass.


Tighten the four screws on the side of the glass door snugly. Be careful not to overtighten.


Install the antenna connection to the top of the cooler and place the antenna.

The installation is complete. Power up the cooler and Pico device.

NOTE
Click HERE to see instructions on how to provision your Pico device.