Introduction
This article explains the fields that operators use in the Info section of the Device Summary screen in ADM.
Accessing the Device Summary screen
Open ADM.


Click on the location with the device you want to review. The Location Summary screen will display for that location.


Scroll down to the tabs at the bottom of the screen. The Devices tab will be selected by default.

Click on the device in the grid that you want to review. The Device Summary screen will display.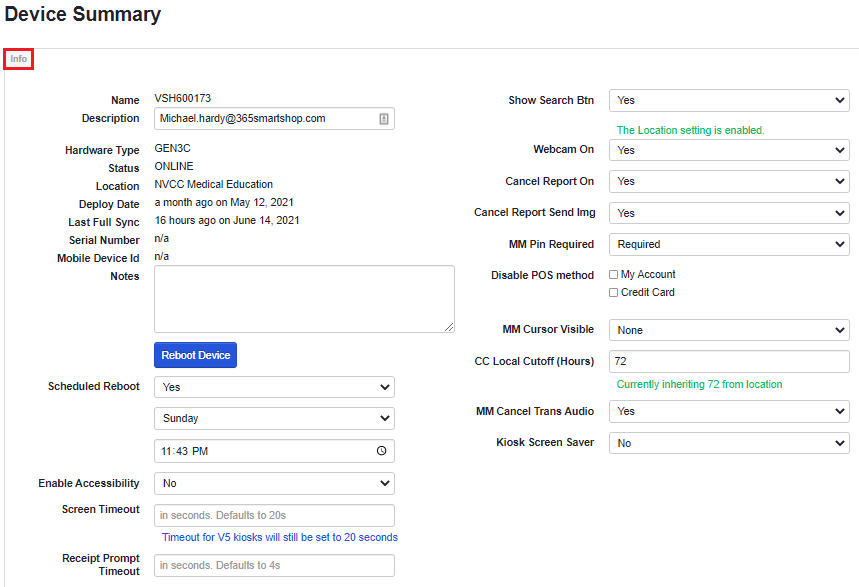 Device Summary Fields
As an operator, you will use the fields in the Info section at the top of the screen.

Warning: Do not click the blue Reboot Device button unless you want to immediately reboot this device at this location!

The fields in the top, left area of the Info section are already populated by default. The remaining fields can be edited as follows:
Scheduled Reboot - Options are Yes and No. When Yes is selected, two new fields will display for you to enter the Day of the Week and the Time.


Enable Accessibility - Options are Yes and No. Default is No.
If you select Yes, the consumer can select the Accessibility Mode button in the bottom, right corner of the point of sale screen. A high contrast interface will display, that consumers can navigate using the navigation bar installed on the kiosk, or by using the touchscreen. If the kiosk has an alternate language enabled, the consumer can select the Switch to (language) button.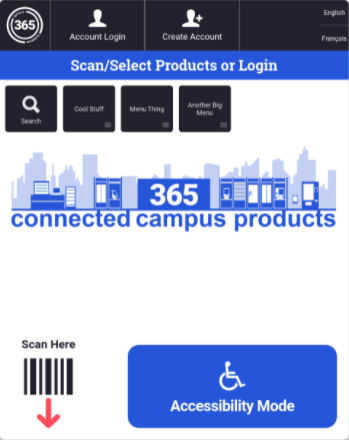 Accessibility Mode requires the accessibility nav bar to be installed on the kiosk and a configuration to be set on the back-end.
Screen Timeout - This is measured in seconds. Default is 20 seconds.
Note: Timeout for V5 Kiosks will still be set to 20 seconds.
The screen will timeout if a consumer leaves a market without finishing their transaction. The device will wait a short period of time and then "time out" returning to the Home screen for the next consumer.


Receipt Prompt Timeout - This is measured in seconds. Default is four seconds.
If the consumer does not choose a receipt option in four seconds, the modal will timeout. No receipt will print, and the device will go back to the Home screen.


Show Search Btn - Options are Yes, No, and Inherit from Location. Default is Yes.


Webcam On - Options are Yes and No. Default is Yes.


This option enables the webcam, that is integrated into the device, to show the footage on-screen.




Cancel Report On - Options are Yes and No. Default is Yes.
If you leave it set to Yes, the device will track cancelled events and report them to ADM for the Cancel Report.


Cancel Report Send Img - Options are Yes and No. Default is Yes.
If you leave it set to Yes, the kiosk will take a picture of the consumer when a transaction is cancelled on the device and send that to ADM for the Cancel Report.


MM Pin Required - Options are Required and None. Default is Required.
If you leave it set to Required, consumers must enter their PIN on the device when accessing their account with a scancode or QR code from 365Pay.


Disable POS method: By default they are unchecked.

My Account checkbox
CreditCard checkbox
This option disables a specific payment method so consumers cannot use it to check out. If one of these options is selected, that payment method will not be available on the device.



MM Cursor Visible - Options are None, Yes, and No. Default is None.
If you select Yes, when a mouse is plugged into a V5 kiosk, the cursor will display on the UI, allowing users to navigate using the mouse.


CC Local Cutoff (Hours) - The settings in this option can be inherited from the location.


Use this option to determine the amount of time that devices will accept credit transactions when offline. When set to zero, the device will not accept offline credit transactions at all.




MM Cancel Trans Audio - Options are Yes and No. Default is Yes.
If you leave it set to Yes, the kiosk will say "transaction cancelled" through the speakers. This voice will only be in English.


Kiosk Screen Saver - Options are Yes and No. Default is No.
If you select Yes, a screen saver will display on the V5 UI after a set period of inactivity.

If there is a kiosk with limited use for extended periods of time, the screen saver can automatically initiate on the kiosk to transition to a new screen. I

f kiosk screen saver is turned off, the Home screen of the point of sale would display consistently