Purpose
The purpose of this guide is to explain the Health Safety Timer Lockout and how to clear it.
What is It?
The Healthy Safety Timer is built in the cooler itself. The PicoCooler device communicates with it to know when to stop allowing transactions based on potential healthy safety hazards for food's freshness.
Process
Locked Pico
If the cooler goes out of the designated temp range for a specified amount of time, the cooler will beep intermittently and display a message notifying consumers to contact their market operator.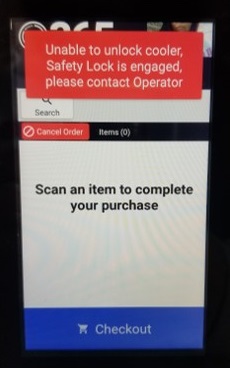 Unlocked Pico
The unlocked Pico will not display an error message or beep. It will simply lock if the temp goes out of range.

A driver or operator must then go on-site to check the products and override the lockout using the cooler. If an operator does not know how to override the lockout from the cooler, the operator will need to contact MinusForty at (800) 800-5706 for the steps.
International: Connect the operator directly to Minus40 support via Five9 cold transfer option to (800)-800-5706.
Why does MinusForty need to be contacted for this: Due to Pico not modifying the behavior or functionality of the NAMA Health Safety Lock and do not receive detailed statuses, 365 Retail Markets is unable to circumvent such health security measures, and we must refer you to the manufacturer to learn more about the operating functions of the cooler.