Introduction
365 has deployed an update to SmartHQ that allows you (the operator) to check your OTI status and upgrade readiness. Just follow the steps below.
Check Your OTI Status & Upgrade Readiness
Sign in to SmartHQ. If you have access to multiple operations, select your operation.


Select Manage Locations from the top left, of the main menu.



The Manage Locations table will display an additional column titled "365 Secure". This column has three values:
Upgrade Ready – It has an IDTech reader now, but it is ready to add the OTI reader.
True (date) – It has the OTI reader, and the date in parenthesis is the date of the upgrade. If it was shipped with an OTI reader, the date will show when the kiosk was staged in our warehouse (not the go-live date).
Attention Needed – Click to get more information about the attention needed.

Click in any row to see you the Normal Detail view, plus a few new extras, for that location.
Normal Detail View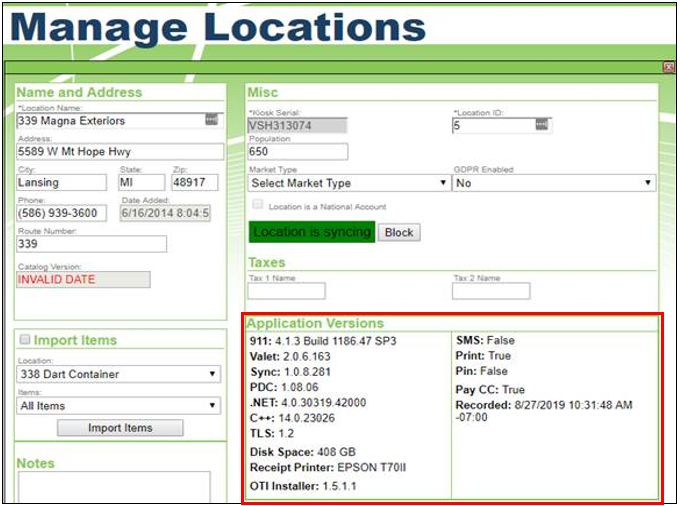 The new data is in the Application Versions section. It will be more useful to technical support than to operators, but it is visible to anybody who wants to see it.
Click any Attention Needed link in the 365Secure column and the Popup View will display.
Popup View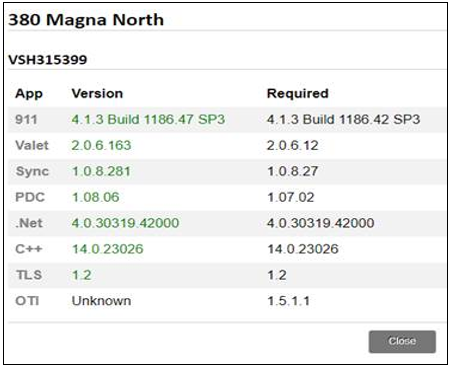 The Popup View will show the exact applications that are being checked, with the:
Required version on the right in Black
Version on the kiosk on the left in:

Green – Good
Red – Bad
Black – Unknown, if there is no version of the software currently on that kiosk.
Note: The Popup View works well in Internet Explorer, Edge, Chrome, and Opera, but not in Firefox.
On the main page, the Export button will export data showing every kiosk at the operation and all details relevant to OTI upgrade readiness to an Excel Spreadsheet. This includes an upgraded indication of which kiosks are Standalones, MKL Servers, and MKL Clients.