Purpose
An operator or driver may need to create one or more menus that include miscellaneous item buttons with selected start and end times that will be visible on their kiosks. The process described in this article will allow them to set up different after-hours menus and button selections by Start and End times.
V5, ReadyTouch, and Nano can use these ADM settings. This will give you the ability to allow or not allow the consumer to purchase based on the start and end times. Item level buttons will be available that will allow items to be put directly into the cart.
This functionality will be available for these Menu Lists:
MicroMarket Menu List
Tablet Service Menu List
ReadyTouch Self Service List


The operator or driver can set up different time frames for items they want to offer as a special. Only one set of items can be offered during the time frame, and time frames cannot overlap.
After selecting Create New, the operator or driver will see the screen below where they can set up their offer.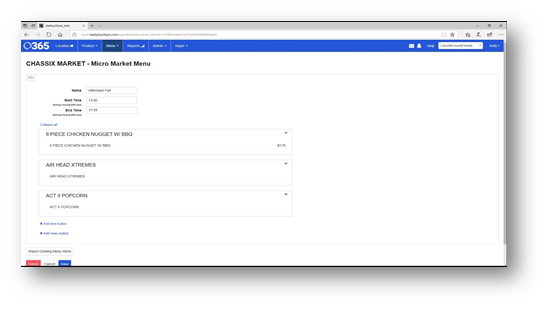 The following is an example of a setup with both Item Level Button (LRG COFFEE) and a Menu Level Button (Breakfast Special).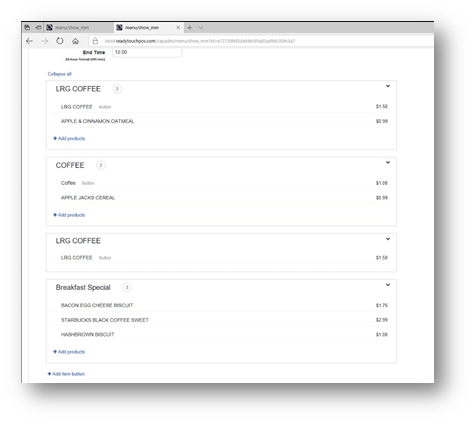 V5 Kiosk
V5 > Item Level Buttons > Menus
Locations with Item Level Buttons enabled will see a change on the Item Buttons on the kiosk.
Items with the three lines indicate a Menu Button.
If the item button has a plus sign (+), it indicates a single item.