Introduction
If a product without a UPC barcode is being sold in your market, an on-screen button can be added that will allow customers to purchase the item without scanning it at the kiosk.
Creating a Button
To create a button on the kiosk, complete the steps outlined below: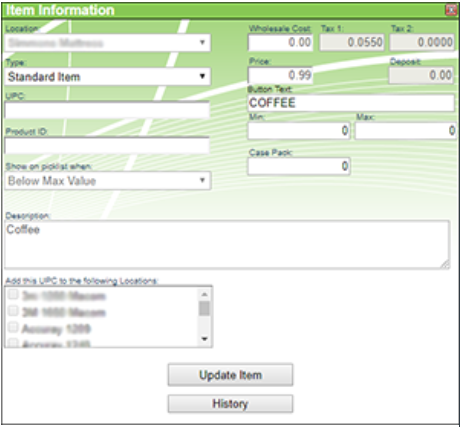 1. Sign into SmartHQ and navigate to Manage SKU.

2. Select Add New Item.

3. Complete these required fields: Location, Type, UPC, and Price.

4. In the Button Text Field, choose the on-screen text that will be displayed on the button. You can enter up to 16 characters, including spaces.

5. When done, select Add.

6. When saved, allow the kiosk to sync with the SmartHQ databases, which takes approximately seven minutes. After it syncs, the button will appear on the kiosk.
Button Icons
Entering any of the phrases in the list below in to the Button Text field will populate the button with a corresponding icon image. If the text entered in the Button Text field is anything except those specified on the list, the icon will not contain an image and will display only the name of the item.
Organizing Buttons
You can create up to 10 customized on-screen buttons for your MicroMarket, which are automatically alphabetized based on the Item Description. To change the order in which the buttons appear on the kiosk, a number can be added to the front of each Item Description (e.g., 1. Small Coffee).