Overview
This user guide will walk you through determining if your V5 or ReadyTouch device is eligible for an update to the newest operating system. Operating systems must be periodically upgraded to ensure they still receive maintenance updates from the OS vendor. This includes important security patches.
If your device is using an old operating system and does not meet the requirements, the device will need to be replaced.
Process
Determine the Current Operating System
Login to ADM
Select Admin from the menu, then select Device from the resulting drop-down menu



The Device page will now be visible. This page displays information about all of your devices, including the current OS. This combined with a few other pieces of information will determine if your device is eligible for an upgrade.


If you have several devices that may be eligible, it is recommended that you export this data for ease of use. On the Device page, select Export All, located on the right side of the page. This will export the Device information for all of your devices to a single Excel spreadsheet. This process may take a moment to complete.

Determine Upgrade Eligibility
Using the information gathered from the Device page, we can now review the data to determine if your device's operating system needs to be upgraded. If it does not meet the following criteria,your device is already up to date and no upgrade is needed.
If a device does not have enough information listed in these columns to determine its upgraded needs, please contact 365 Support at (888) 365-6282 or support@365smartshop.com
NOTE: This only applies to MicroMarkets (VSHXXXXX) & Ready Touch devices (KSKXXXXX)
Review Operating System Information
If this column displays "Ubuntu 20.04…" then the device is up-to-date and no action is needed
If the column displays "Ubuntu 14.04…" or "CentOS…" then the device is out of date and needs to be upgraded or replaced
If the column is blank, further investigation is needed and one of the columns of information described below might help determine the status of the kiosk



Review "Go Live" Information
For all devices with an older Operating System, you will need to determine the Go Live date.
If the Go Live date was earlier than 2017, or if this cell is blank, then it is recommended you replace that device entirely.
If the Go Live date was in 2017 or later, then the device is eligible for an upgrade.




Review Current Status and Last Sale date Information
The final piece of information can be gathered from determining if the device is in service and being used. This is done by comparing information in the Current Status column with the information in the Last Sale date column. A device must be online to be upgraded/updated.
For example, if the "Last Sale" date was one year ago and the status is Offline, then the kiosk is more than likely out of commission or an inventory unit. Inventory units must also be updated if they are using an older OS, so the device will have to be brought online before the upgrade can be done.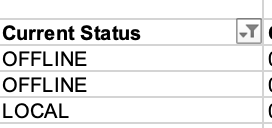 Request an Upgrade/Update for Your Device
Having determined the number of devices that need to be updated, you are now ready to request the USB devices that can preform the upgrade. These USBs are provided by 365 free of charge, and will be delivered to you preloaded with the necessary software. Updating the device will require someone to be onsite. Please plan for about an hour to an hour & a half of downtime.
These USBs can be ordered via the links provided below.
Navigate to the V5 & ReadyTouch Upgrade Request Portal


On the form, select either V5 or ReadyTouch depending on your needs

Fill out the rest of the required information. Should you require it, this form allows you to order other peices of equipment to complet the upgrade process , such as:

a keyboard and mouse bundle
router
PCs

Once the form is submitted, you will receive an email confirming your order.
Once your order has been processed, 2 USBs per 10 devices will be shipped to you, with a minimum of 3 USBs. For example, if you are updating 50 devices, 10 USBs will be shipped. If you are updating only 10 devices, 3 USBs will be shipped. These USBs can be reused multiple times to upgrade multiple devices.
Upgrade/Update Your Device
Bring the following to your location(s) to complete the upgrade process:
the USBs (always bring more than one USB in case of flash drive failure)
a keyboard
a mouse
any other additional equipment ordered via the form
Instructions on the upgrade process will be emailed to you after the form has been submitted. These instructions are also available in the following articles:
Once upgrades are completed, destroy the USBs and dispose of the USBs.
If you need to replace a device or have further questions, please reach out to your Account Ambassador for assistance.
FAQ
Do I need to upgrade my devices?
Yes. Once operating systems have reached the end of support, there will no longer be vendor updates. These updates can include things like security patches, drivers, and other improvements for compatibility with the overall OS.
What are we upgrading from and to?
Devices will be upgraded from either Ubuntu 14.04 or Cent OS 7 to Ubuntu 20.04 or newer.
When do these upgrades need to be completed?
Support for Ubuntu 14.04 or Cent-OS7 will end in June 2024.
What if the upgrades do not happen until after support ends? Will the markets stop working?
Devices that are not updated by June 2024 will not receive future critical security patches or other upgrades. This will put them at substancial risk to new security threats.
How are these devices going to be upgraded?
A technician will complete the upgrade on site. They will follow the respective documentation depending on the device being upgraded. All devices will be upgraded via a Flashdrive.
Which kiosks do not qualify, and what happens with those kiosks?
Devices that do not qualify are either already up-to-date with the latest OS, or the hardware is too out of date to be upgraded. Devices that are incapable of being upgraded will eventually need to be replaced.
Is there a cost for these upgrades?
No - the USBs are currently free, and there are no charges or fees.