The Feed app is available both on the iTunes app store and the Google Play Store for Android devices. By logging in with the same information as you would for the Stock app, you can have selected notifications sent directly to your device so you can keep up-to-date on any aspects of your vending operation.

Just like how the VMS is set to send Alerts to your desktop computer, the Feed app can be set to send notifications to your mobile devices, and though there is some overlap in what these notifications cover, there are also options available for normal operations activities.
Using the App
Upon downloading and logging into the application, you will see the Business Feed (image below), which by default displays notifications for today's date. Using the arrows next to the date, you can pan through and investigate the alerts that have appeared on past days. By tapping each individual notification, you can see the details associated.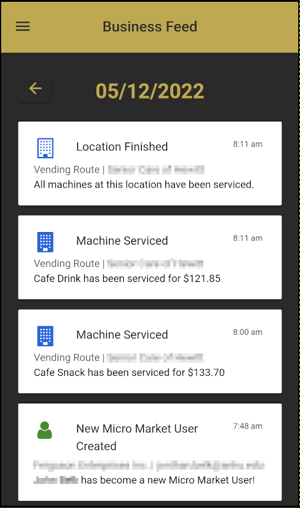 By clicking the

Menu button in the top left corner, you can select the Settings option, which will allow you to pick which notifications you would like to receive. These settings preferences can be different for each individual user utilizing the Feed app, even for the same company. This means the drivers and prekitters can receive notifications relevant to their roles, while managers may choose to receive a more comprehensive set of notifications.
The Notification Display Settings page has an extensive list of available toggles. These can be customized at any time. Most are self-explanatory by their titles: New Telemeter Implemented or Tech Ticket Closed, for example.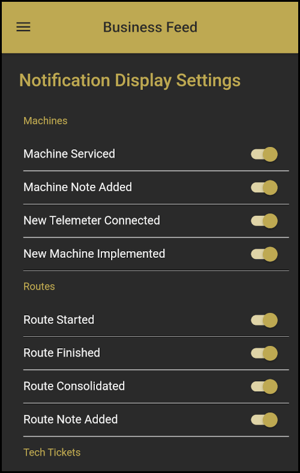 Some common and helpful notifications to have on include the following:
Machine Serviced
Route Finished
Route Consolidated
Customer Feedback Received
Cable Issue
No Recent Communication
Low Inventory Reported
Sold Out Reported
Kiosk Back Online
Bill/Coin Jams
Tapping the Menu button from the Settings page will allow you to return to the Business Feed or Log Out.