Under OCS > Accounts Receivable, you can view a list of all of your VMS Accounts, their associated balances due and available credits in the OCS module. 


By clicking the Account Name, you can view the current Account settings in a separate tab. The Total Balance Due amount indicates the total of all unpaid invoices for the customer. Available Credit is the amount of credit that is available to the customer to be applied to outstanding invoices. 
Under the Actions column, clicking the Statement icon on the right will generate a downloadable and printable statement detailing all of the customer's outstanding invoices. The form will automatically populate the operator and recipient addresses, as well as a full breakdown total of the due amount at the bottom of the statement. 
The Detail View to the left of the Statement icon will open the Accounts Receivable list for that customer alone. This page functions almost the same as the OCS Invoices page, but also lists the due balance, credit, and pending invoices at the top of the page. 


Under the OCS Invoices tab, you can view each invoice by clicking the Invoice #. Under the Actions caret on the far right, you can view a PDF of the invoice or apply payment to it. By clicking Apply, you will open a modal asking you to choose between paying the invoice using Available Credit, or by setting up payment information by the customer, if not already set up. Under
Options, you can choose to export any invoices you have checked off using the boxes on the left.
The Payments tab breaks down individual payments that have been made by this customer.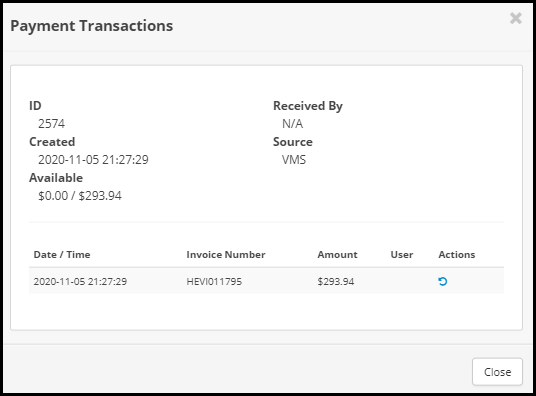 By clicking the number under Payment Transactions, you can open a modal that will tell you the Invoice number(s) to which the payment was applied and other associated information, and by clicking the Undo Transaction icon under Actions, you can even roll back the payment.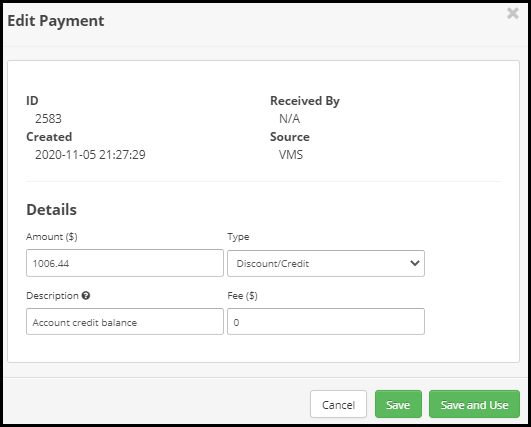 Back on the Payments tab for the customer-specific Accounts Receivable page, you can click New Payment to add another payment to the customer's outstanding balance. Similarly, by clicking
Edit under the Actions caret, you can edit the existing payment information, which is pre-populated into the fields, seen on the right. Make any changes needed, and then click Save or Save and Use if you would like to go ahead and apply the payment.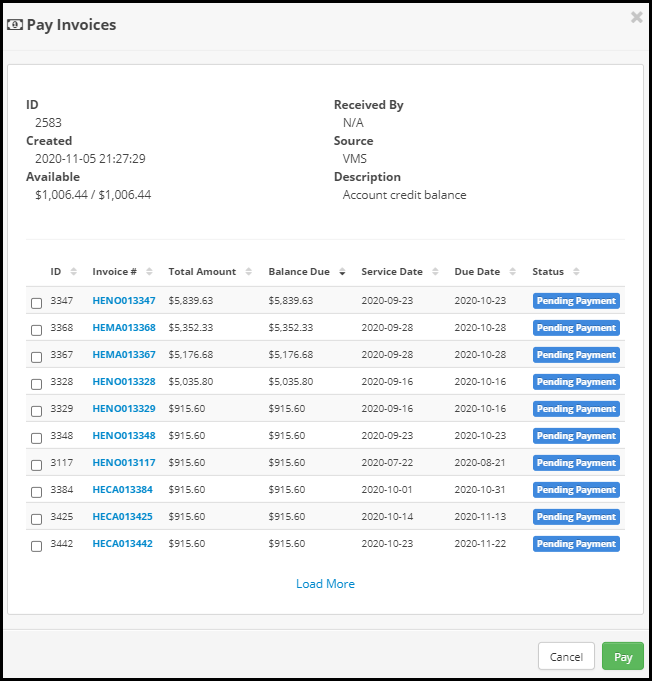 Under the Actions caret, you can also Delete the payment, or by clicking Pay, you will open another popup in which you can use the checkboxes to select all the invoices you would like to apply a payment to. 
This allows for partial payments to be made for a customer. Click Pay at the bottom to apply the payment to the specified invoices.