1. To add users in bulk to a particular micro market account, you can navigate to Markets > All Users in your VMS. 
2. Click

Options > Import Users.
3. On the following pop-up, begin by clicking Template

, which will download a .CSV file of the template to your computer. This file can be opened in Microsoft Excel or another spreadsheets program.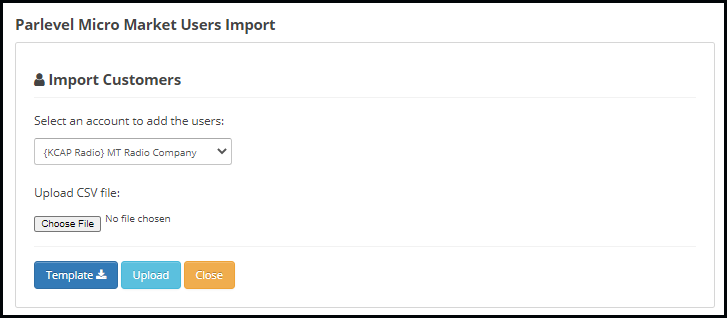 4. Open the file, and fill out the columns with the information for the market users.

Please note that the column headers must not be altered.
Some tips on filling out the information:
First name and last name are required. 

Email is required. No email can be used twice under the same market account. 
Balance is required to be filled out, but can be set at 0 if no wallet balance is needed.
Pin is required and must be 4 digits. 
Badge is not required and can be left blank.
User number is not required. The user number can be used to login as an alternative to email, and can be up to 6 digits. If you leave the column blank, the system will generate IDs for you.
5. When the information is complete, click Save As in your spreadsheet program, and proceed to save the file as a .CSV in an easily accessible place. 
6. From the Parlevel Micro Market Users Import pop-up, make sure you have the appropriate market account selected in the dropdown. You can then click Choose File, select the CSV file with the user information, and then click Upload. 
7. After a successful import, the users will be able to access their market Wallets with the information provided.