This feature is only available to users logged in as Managers.

Under
Settings >Vending > Deleted Machines, you can view machines that have been deleted and resurrect them so that they will be accessible again from the All Machines page.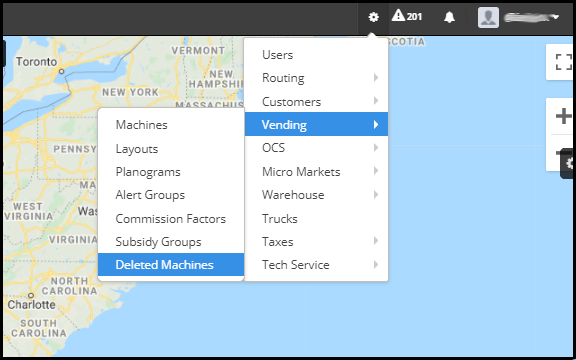 From the Deleted Machines page, you can view the System ID, machine name, location, and the timestamp of when it was deleted. On the far right, there will be an arrow that will allow you to resurrect the machine, removing it from Deleted Machines and back into the All Machines page. 
The resurrected machine will have the same settings, planogram, etc. as when it was deleted. If the telemeter was removed from the VMS machine, then it will need to be reattached, and any sales made during the time that the machine was deleted will not be recorded. An inventory audit is recommended to be performed at the machine to ensure that the VMS quantities are brought up to date.