Purpose
To guide the Operator in correcting the Security Event Monitor (SEM) if it is not displaying correctly.
What is SEM?
SEM is a web browser-based display that will show transactions from the kiosk as they occur. The SEM will show when an item is scanned, purchased, removed from the cart, show the cart being emptied by pressing Start Over, or if the transaction is timed out due to inactivity.
The SEM is typically displayed to the customer via an onsite monitor or TV, and can display a camera if a camera is connected.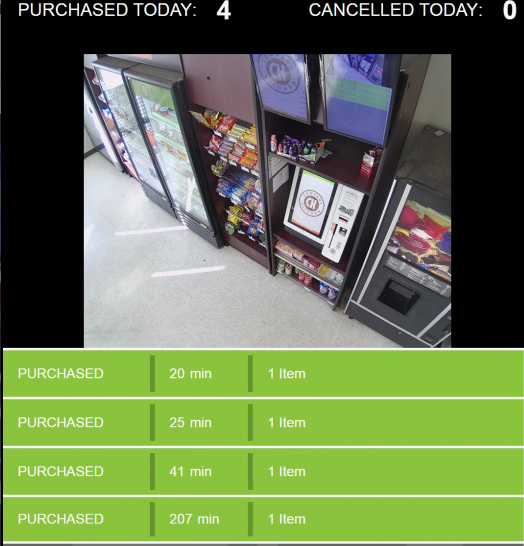 Troubleshooting
LogMeIn

All troubleshooting for the SEM can start from the remote connection through LogMeIn. If you do not have access to LogMeIn, or the location in particular is missing from your view, you may contact CK Support for access. Your access request may be subject to approval by your manager.



DVR/NVR

Check if the DVR is online. If it is showing offline, this may be due to a power or network failure, in which both cases the SEM will not display. If the DVR is offline, a technician will be needed on location to troubleshoot further.
Examples of Online vs Offline




SEM

When you log into the DVR, you may see just a normal PC desktop. Some SEM's will have multiple displays set up. You can check this by clicking Options at the top of your LogMeIn window, going to Monitors, and clicking All Monitors or Mult-Monitor.

Please remember, this is not common on all DVRs.


If the SEM is not displayed on either monitor, then you will find a Chrome browser icon on the desktop labeled Event Monitor or something similar.

You can double-click the icon to open the Chrome browser and automatically be directed to the SEM web page. (Opening Chrome may take longer than normal on some DVRs.)
Grab the Title bar of the web browser and drag it to the appropriate monitor (if needed) and press F11 on your keyboard to make it fullscreen.
In some instances the SEM may have a Gray Screen or say Page Cannot Be Displayed. In these cases, you can attempt to close the SEM page with Alt-F4 and restart it with the above method. If this does not resolve the issue, then there may be an issue with the Kiosk that will need to be investigated.

Auto Restart

CK Support does have an Auto Restart function available for SEM's. You can determine if this has been set up if the icons below are on the desktop:

If these icons are not on the desktop, you may contact CK Support to set up Auto Restart.
Auto Restart only works in instances where the Chrome browser is not running. This does not alleviate issues that may be caused by the DVR or Kiosk not functioning properly.
Conclusion
The steps in this documentation will resolve the most common issues found with SEM. If you have difficulties with these steps, or they don't resolve your issue, please contact CK Support for assistance.
Via Email: cksupport@365smartshop.com
Via Phone: 877-280-7373