Purpose
This document is a collection of the technical specifications and information about the Stockwell 2.0 device. 
Spec Sheet Preview
The spec sheet is attached to this article and can be viewed or downloaded from the attachment.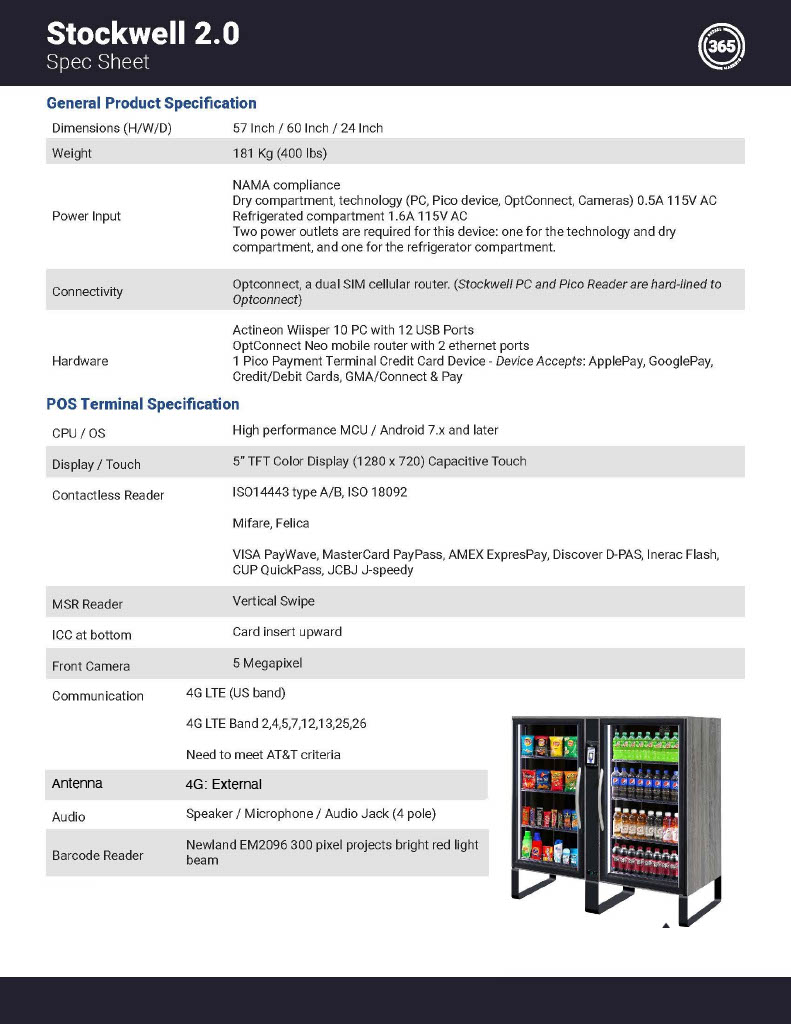 Other Information
Dimensions and Weight
Height: 57" (144.78 cm)
Width: 60" (152.4 cm)
Depth: 24" (60.96 cm)
Weight: 400 lbs (181 kg)
Connectivity
Optconnect, a dual SIM cellular router. Stockwell PC and Pico Reader are hard-lined to the
Optconnect. 
Technology
Actineon Wiisper 10 PC with twelve (12) USB Ports
OptConnect Neo mobile router with two (2) ethernet ports
Pico Credit Card device
Nine (9) Spinel cameras:

Four (4) on the ambient side, one camera per shelf
Four (4) cameras on the refrigerated side, one camera per shelf
One (1) front-facing camera, located above the Pico
The Pico Credit Card device accepts
ApplePay
GooglePay
Credit / Debit Cards
GMA / Connect & Pay
Power Requirements
Two power outlets are required for this device: one for the technology and dry compartment and one for the refrigerator compartment. 
The technology (PC, Pico, Optconnect, cameras) and dry compartment pull 0.5 Amp at 115VAC.
The refrigerator compartment power cord pulls 1.6 Amp at 115VAC.
Diagrams