Merchandising, Moving Product, and Maximizing Space-to-Sales
This module discusses market customers and how to increase engagement and spend in your markets. In today's information datamining climate, customers expect you to know them and their last 10 purchases. They expect you to anticipate their presence in your market, make them feel at home, and expect you to anticipate what they will purchase next.
Datamining works both ways. When you personalize customer interactions, give customers what they want and what they expect, they will respond by engaging their social media network.
Workforce Statistics
As Millennials enter the corporate workforce, this population will largely influence the future success of the micro market industry. According to Dept of Labor, by 2025 Millennials will make up the majority of the global workforce.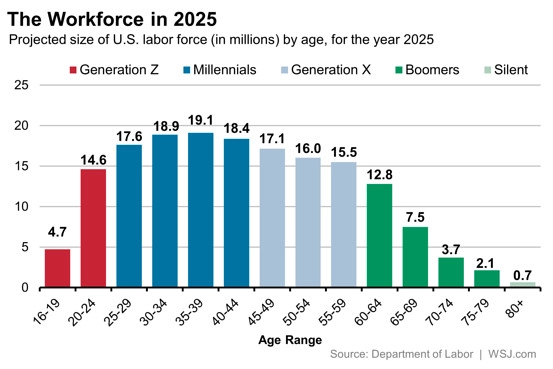 So, when getting to know your customers, it is important that you focus on this group, and monitor their needs or wants. NAMA conducted a study on millennials and their perceptions of vending, office coffee service, and micro markets.
Implementing Demographic Study Findings
Focus on consumer trends and demands, as they will continue to shape the breakroom evolution. The same NAMA Millennial study captured the following feedback and ideas: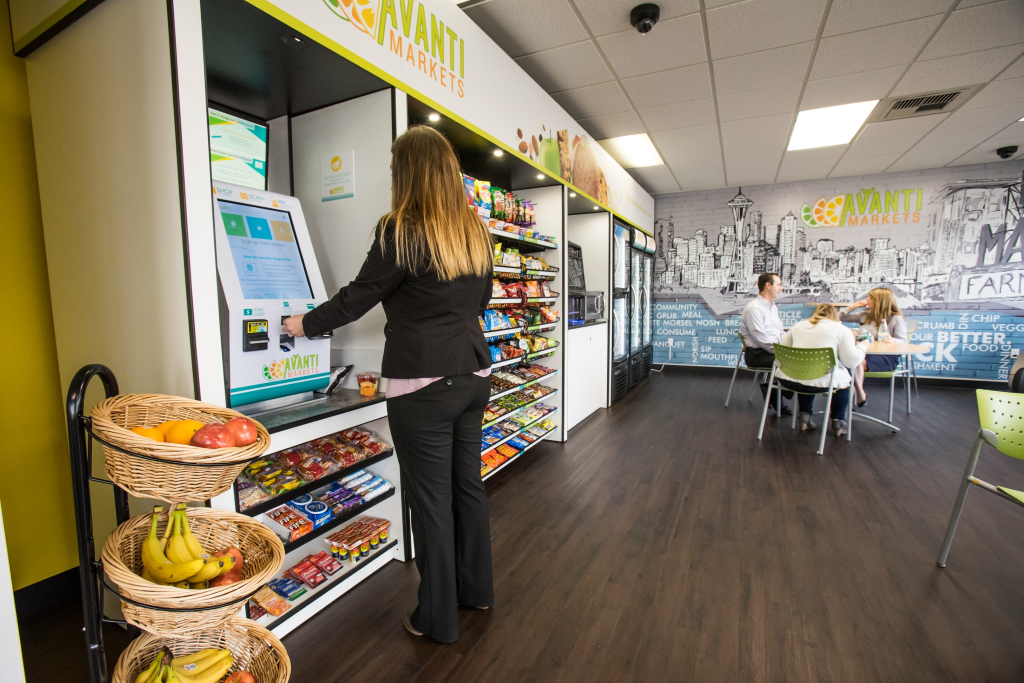 Figure 1: NAMA Study Finding Ideas
All these ideas incorporate what Millennials identify as important; convenience and awareness about what they put in their bodies, or at least what they identify as "healthy."
Merchandising
An effective way to increase consumer spend is to provide what they want in the market, when they want it, and at the levels for which the demand is calling
U
nit Sales Shares: What Consumers
Buy
Use the following insights found during a sampling of 220 markets in the Northwest region, to help determine what consumers are buying. Yes, regional preferences vary, but the concepts still apply.
Understand what the data is telling you about markets today. Consider obvious market trends that you may not yet be implementing in your markets. As you consider merchandising and determining what product goes in a market, it is also important to look at space to sales, or how much space in your market you are allocating to which product. You should base the amount of a given category in your market on the sales volume
of that category. Look at the following graph of sample data:
Total unit sales =

1,386,515

Total dollar sales =

$2,355,168

1 out of 6 units purchased is a food

item
The graph is organized into six very general categories, which will be broken down further, later. The fact that every sixth item purchased is a food item, illustrates why fresh food is so important and the importance of offering a variety of fresh food options in your markets.

Food, cold drinks, and snacks represent 93% of micro market unit sales and 92% of dollar sales. Compared units sold to the dollar sales share. While food makes up 16% of the units sold it makes up 26% of the dollar sales that occur, which is a result of the higher pricing you can charge in markets.
Beverage breakdown into smaller categories: If we take a closer look at the cold drink category, we are seeing that 20oz soda accounts for 28% of unit sales share, but it accounts for less of the dollars sold at 26%. These are two surprising results; milk and dairy, which is commonly a category you don't sell in vending, makes up for 22% of the unit sales. However, energy drinks account for 18% of unit sales, but 34% of dollars. These are high priced items and you should have these in all your markets. It's a common theory to only carry Monster or Red Bull, but it's a good idea to offer a larger variety to the consumer in popular categories that you want to capture.
Food category breakdown: Take a closer look at the fresh food category of unit sales, and you can see that the biggest percentage is sandwiches at 21% but grows to 34% of the dollars sold. the following graph breaks down fresh food category. Notice side items. This includes hard boiled eggs, string cheese, small potato salads, macaroni salad, etc. It is the #1 category in units and is the second highest in dollars. Don't ignore the breakfast category. It's a good idea to expand in breakfast, as you want to be the one-stop shop for their morning breakfast and their lunch/afternoon snack.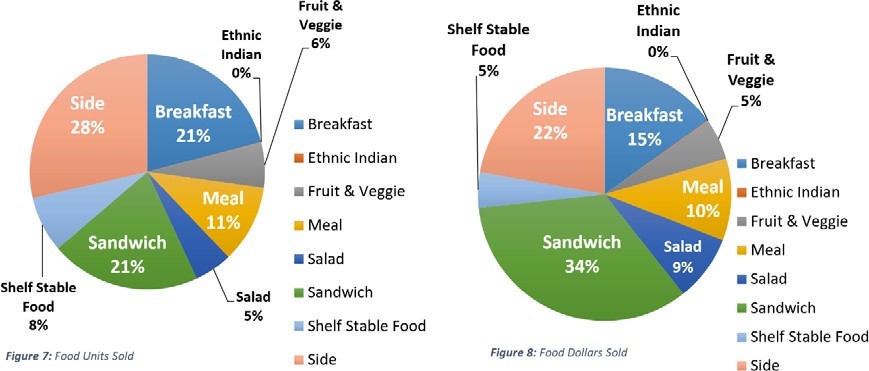 Snacks category breakdown: Finally, take a closer look at snacks. You are going to see less obvious leaders in this segment, which shows that consumers are buying a variety of items. They want choice and variety and they are purchasing across the board when it comes to snacks.
Surprisingly enough healthy makes the top three of units sold, and second in dollars sold. It is probable that this category will continue to rise as more millennials make up the workforce.

Also, notice meat snacks; there are always trends in "healthy" buzzwords. "Protein" is the latest trend in what companies like Jack Links and other manufacturers are seeing. So, expect the meat snacks category to continue to hold a strong position.
Important
It is vital that you analyze trends in your region, including convenience store or café trends. In addition, evaluate the following data in your markets:
Monthly/quarterly product sales

reports

Determine the percentages that make up your

categories

Use the previous data to determine space-to-sales by

category
Product Placement
Where you place a product can sometimes change a "good" performer to a "great" performer. When you first look at a market, your favorite snack isn't the only thing that should be catching your attention. How items are placed plays a big role in what sells in your market. Before taking a closer look at product placement, let's look at the following figure.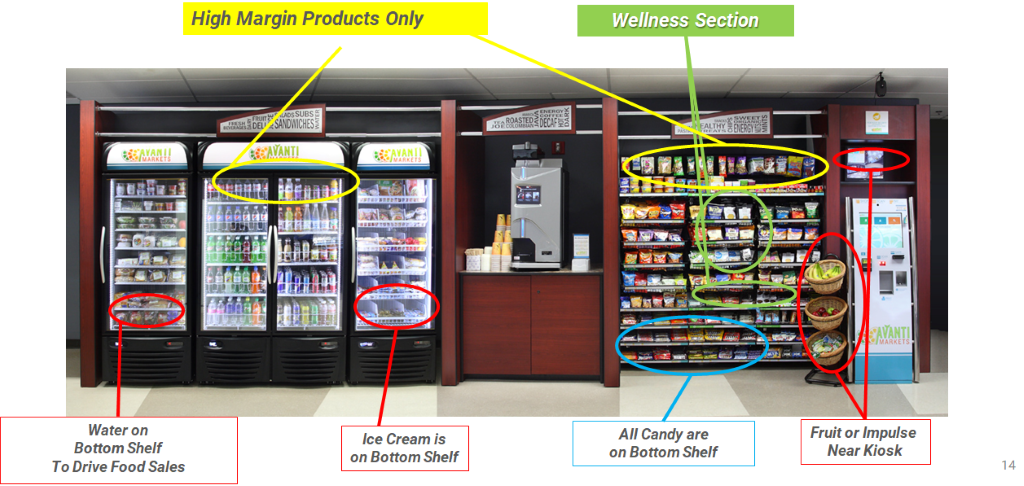 Figure 11: Product placement
In the previous illustration, you can see the following:
Salads are at

eye-level.

Use color break to have different colors next to each other (for example, Mt Dew). Look how a Mt Dew Code Red separates the diet and regular Mt Dew, which are both green. For example, you would do blue, tan, blue, red, blue versus grouping all the blue products together.

I

ce cream

should be at the bottom of the freezer

, because you want the consumers

to

see

the

higher

priced

items

first,

as

well

as

the

healthier

items

shown

in

the market.

All

gluten

free

(GF)

items

are

near

each

other,

making

the

GF

category

easily

identifiable

for people who are seeking out those items. Use labeling to promote sale items, gluten free items, and promotions. Doing so, catches the consumer's

eye.
Candy is also on the bottom shelf in the snack

section.

Place the fruit options in a basket near the kiosk for easy access and visibility to the

client.

Typically, you want glass bottles on the bottom, to avoid potential breakage, if

dropped.
Planograms
AMS has an integrated Planogram feature. Use planograms to help you pre-plan new markets, control your product placements, and evaluate space-to sales on a shelf and slot level. Planograms can also be viewed at the kiosk by your drivers giving them the ability to look up the planogram to ensure 100% correct merchandising.
Operators

will be able to create a planogram for each "container" in each market

Products

can be selected from their global product list

As

shelves and rows are populated, each tile will present the

MIN

/MAX

Total

Inventory Count

Scan

code/UPC code

Each

row can be edited and changed
The following is an example of the planogram feature in AMS.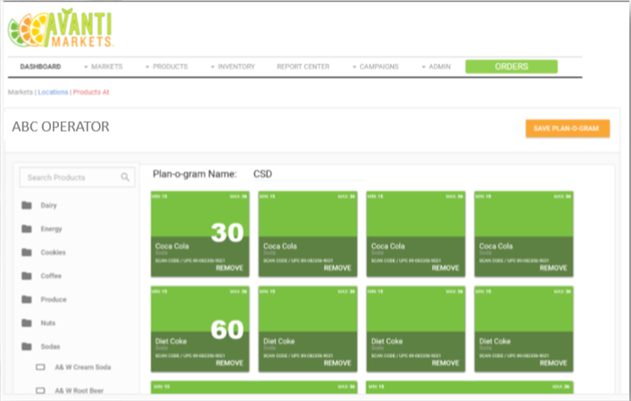 Figure 12: Product placement
It is recommended that you have an updated, standard planogram with the current products you are supplying in a market. Having a standard planogram will help new installers or service techs make a market look clean and organized regardless of familiarity with the market.
Dry Goods Planogram
The following diagram illustrates a basic dry goods/snack section lay out:


Figure 13: Dry Goods Market Layout
Start at the top with the hanging products—these items have packaging with a hole that can be placed on hooks. Make sure these items are similar. Sometimes if you don't have space for an item with a hole, and it does not match any other items that are hanging, you can put it on the shelf.
Next

shelf

place

standing

products

—like

the

hanging

products,

you

can

place

these

items

in other places such as baskets. However, do not place items like chips or candy on this shelf. Use this shelf specifically for items with a box shape or self-standing

packing.
Next three shelves place popular chips on the right side

—and the healthier, but popular chips

on

the

right

as

well.

The

higher

the

shelf

(at

eye

level)

you

use,

the

more

you

want

the customer to purchase those items (use for higher priced

items).
Use the next shelf down for misc. items

—including, cookies, healthy bars, and snacks that people buy but not often enough to use a higher

shelf.
Near

the

bottom

on

the

flat

shelves,

place

candy

—since

these

items

are

lower

priced

and you don't want this to be the first thing the customer sees when they enter the

market.

In

the

baskets

on

the

right

of

the

kiosk

—place

all

impulse

items

for

the

customer

to

easily identify what they are, and can purchase last minute, before leaving the

market.
Coolers Planogram
Use the following diagram to help plan your cooler layout.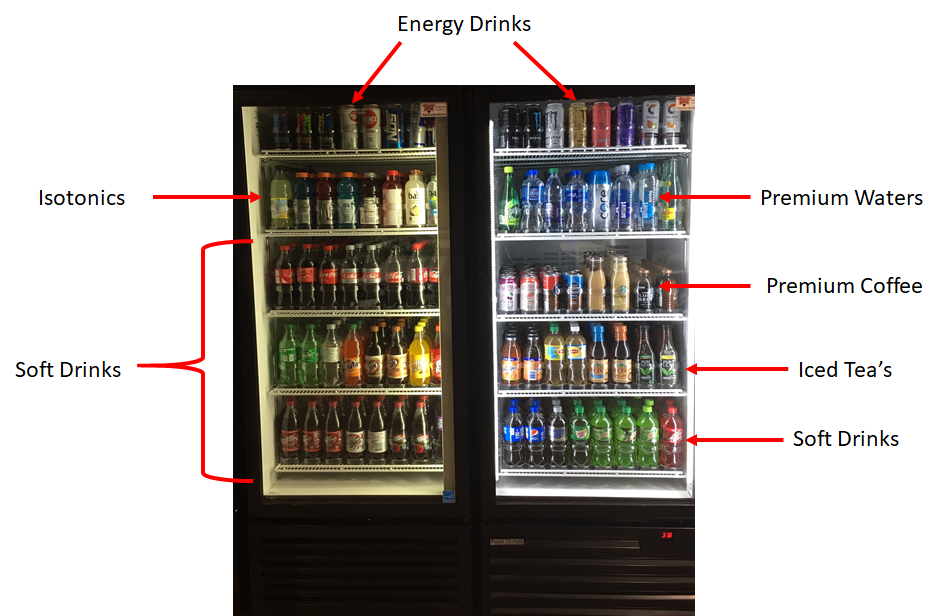 Figure 14: Cooler Market Layout
Locate

all

Premium

items

towards

the

top

shelf

—

Energy drinks are

perfect

. They are high margin &

high-volume

beverages

.





On

the

right

side

of

the

beverage

cooler

—

following Energy, place all

CSD (

Carbonated

Soft Drinks

.





On the left side of the beverage cooler

—following Energy, place all the Premium products, Waters, Coffees, and Iced

Teas

.
Freezer Planogram
Use the following diagram to help plan your market freezer layout.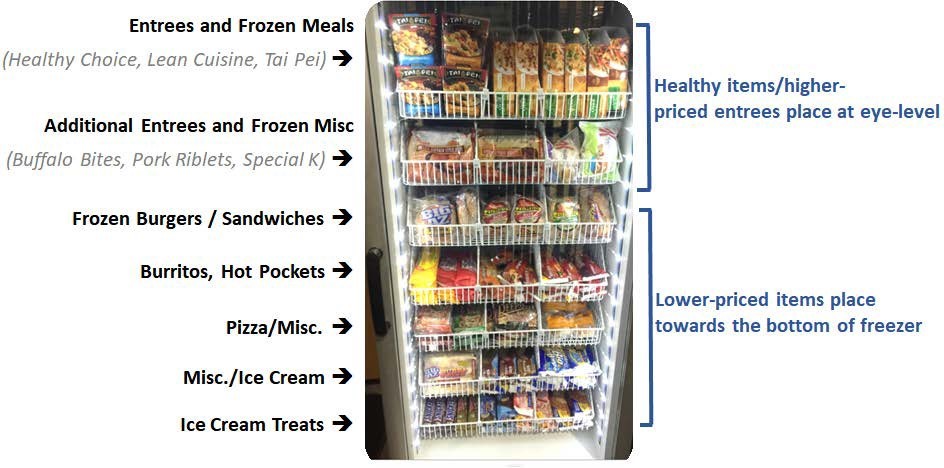 Figure 15: Freezer Market Layout
Start

at

eye

level

—and

place

entrees

and

meals.

Locate

all

healthier

choice

on

the

top-shelf. Then place additional entrees just below, since these are typically higher priced and more of a meal than a

snack.





Then

use

the

typical

frozen

section

layout

at

most

grocery

stores

—burgers,

burritos,

Hot Pockets, pizza, and so forth. These items are usually meant for a younger population, because they are so used to eating these foods and they have a low price point (another reason you place them on lower

shelves).





On the bottom shelves place all ice cream

—as you will NOT see much sales in this area until the Summer months; however, everyone has their cold cravings occasionally, so it is important to always have

available.
Remember, freezers are easy to customize. Just make sure to place healthy, higher priced items at the top (eye-level), and the not so healthy or lower-priced items below.
Ev

aluating Product

Mix
Evaluating your current product mix at a location, involves understanding product performance and current space allocation in your markets. Use the following reports that will help you achieve this:
Product Sales Report

—Quickly identify top performers and areas of

improvement.

Product

Activity

Report

—Evaluate

product

performance

by

analyzing

not

only

sales,

but which products were staled, relocated, and at how many locations. This kind of data can help you, for example, make menu changes for the next

quarter.

Unsold Products Report

—Identifies products still on hand, nearing expiration, so

you can decide what to do with

them.
Product Sales Report
This report will quickly identify your top selling products, so you can carry them in all your markets.
Sort the report data by category to ensure no

gaps.





Then run this report monthly on all

markets.





Evaluate by category, by selecting one or two categories to focus on each

month.

Match up product level sales to your

planograms.




Determine the space allocation is accurate using these two

factors:




- Category




- Specific

Product





Evaluate top performing products across all markets, and make monthly

recommendations.





Ensure that those products are in all your

markets.





Evaluate categories quarterly by selecting one to five categories for

review.





Compare

data

against

sold

,

staled

,

and

the

number

of

locations

to

which

the

product

is currently extended. This analysis enables you to make informed product changes or removals based on level of

performance.
Understanding this information helps you allocate space to sales properly.
Table 1: Product Sales Report Data


Ranking by Category
Take a closer look at the 20oz CSD category:
Table 2: Product Sales Report Data for 20oz Beverage Category

Coca Cola Classic 20oz bottles

sold

197 units

and accounts for

four rows

in the

cooler

Mello Yello 20oz bottles

sold

3 units

and accounts for

two rows

in the

cooler
This report data enables you to discuss with the client new space to sales options and propose reducing Mello Yello 20oz bottles to one row, while adding an additional row for a top-performing or better performing item.
In the following figure, you can see another example of Product Sales report data identifying the top 20 products out of 230 markets:
Product Activity Report
To make menu changes, you need to know what is working well and what isn't working in your markets. The Product Activity report can help you identify this information.
For example, the following data is from one month of product activity across the entire organization. In the following table the data highlights all Grandmas cookies products. Take a closer look at the flavors, as you can assume that not all flavors are equal performers and perhaps some flavors need removing.
Table 3: One Month of Product Activity Report Data
| | | | | |
| --- | --- | --- | --- | --- |
| | Sum of Qty. Sold | Count of Location | Sum of Stale | Qty. per Location |
| Grandmas Brownie Fudge 2.5oz | 1497 | 203 | 1 | 7.37 |
| Grandmas Mini Sandwich Vanilla 3.71oz | 1533 | 200 | 1 | 7.67 |
| Grandmas Oatmeal Raisin 2.5oz | 850 | 171 | 17 | 4.97 |
| Grandmas PB Cookie 2.5oz | 1581 | 193 | 6 | 8.19 |
| | | | | |
| Grand Total | 5461 | 767 | 25 | |
Notice oatmeal raisin is currently at 171 locations (almost as much as the peanut butter) and most units were staled. This flavor also sells at a ratio of half that pf peanut butter. It may be a low-performer at some locations, so you should then evaluate this flavor by location.
Unsold Product Report
You can run the Unsold Product report for each location, which you should evaluate monthly or quarterly. This report identifies unsold products still on hand, so you can decide what to do with them.


Table 4: Unsold Product Report Data
Utilizing coupons or promotions for these unsold items can help you recover costs or even turn a profit.
Ideas for Unsold Items
Opportunity to discount/sale these unsold items in the market, enabling room for new products.

Re-deploy

slow

moving

products

into

other

markets

with

higher

customer

volume

to

either sell through or discount in an identified "clearance"

section.

Discuss

with

the

client

some

subsidy

solutions

to

reduce

the

cost

to

employees

and

in

turn to see if unsold products sell

through.
To make menu changes
Run

this

Product

Activity

report

for

the

fresh

foo

d

category

minimally

every

quarter across your entire

organization.





Pivot the table to capture the following columns headers about your

products:

Sum of QTY

Sold

Sum of

Stale

Count of

Location

Added in QTY per Location




Remember that it is critical to have the right products associated with the correct categories. This report helps identify

obvious low performers

in your organization that you may want to

remove

from your product mix. This report also helps

evaluate

menu rotation

for the next

quarter.





Before you remove products, you can still make a profit or cover your costs by utilizing discounts or special price zones for those low-performing

products.
Market Resets
It is recommended that you update décor, graphics, etc. in your markets semi-annually. Over time items get misplaced or an item that doesn't sell well has too many facings. The market may be producing good numbers or there is product that isn't moving. Any of these you can consider a catalyst for a market reset.
Use your merchandising data to place the right product in the right place. Use your data to find the right mix of products, such as healthy and gluten-free, as well as indulgent items. You must focus on ways to get the most out of the markets you operate, and effective merchandising can help do that.
It is a good idea that EVERY six to nine months you follow up all market resets with a "MUAD" Market User Appreciation Day, like a Grand Opening event, where you set up samples, encourage account
registrations, load the app onto customer devices, give away prizes, annually introduce new market features, and other similar promotional techniques.
Pushers

Why should you use digital signage, promotional contests, regional/national brand promotions, and other product pushers?
Know your customer and pay attention to local, regional and national product trends and promotions. Leverage planograms to ensure product is placed in correct locations within a market, making it easier for your drivers. Utilize reports that can help you allocate the proper amount of space to a given product or category. Don't install and forget about it – always consider market refreshes and market resets.
Keep it exciting for your client and consumers.