Purpose
This guide will provide details on how to modify your MM6 operations to accommodate scheduled orders sent to the device remotely with OrderAhead.
The MM6 OrderAhead feature provides an opportunity for consumers to place orders with the operator's device remotely. This can be done via the 365Pay mobile app or the 365Pay site, or on the device itself. The system is ideal for situations where staff may not have access to their smartphones or a browser in order to use our OrderAhead app. 
If you have any further questions about the OrderAhead process, please see 365Dining - OrderAhead Operator Guide.
For more information on the MM6 kiosks, please see the MM6 - Hardware Guide and the MM6 - Setup and Installation Guide.
Request Quote
If you have the required components but do not have the OrderAhead functionality setup yet and would like to make this available for your location, please reach out to your Sales representative.
Please contact your 365 Sales Representative at 888-365-7382 for more information and a quote.
Enabling OrderAhead 
Login to ADM
Select the Menu tab from ADM's main menu
Select Self-service from the list of options available


Once directed to the Self Services page, you will see a toggle button for OrderAhead on Kiosk (shown below). Select this toggle to enable it. You may select it again to disable it at any time. 


Customizing Your OrderAhead Settings
Select Location from the main menu of ADM
Select the name of the particular location you would like to modify from the list available
You will now be taken to the Location Summary screen for that location. Scrolling down the page, you will then find the OrderAhead settings listed on this page, which you can modify as needed. For example, you can add Pickup locations, or create disclaimer messaging for your customers. For more information on these settings, see the 365Dining - OrderAhead Operator Guide.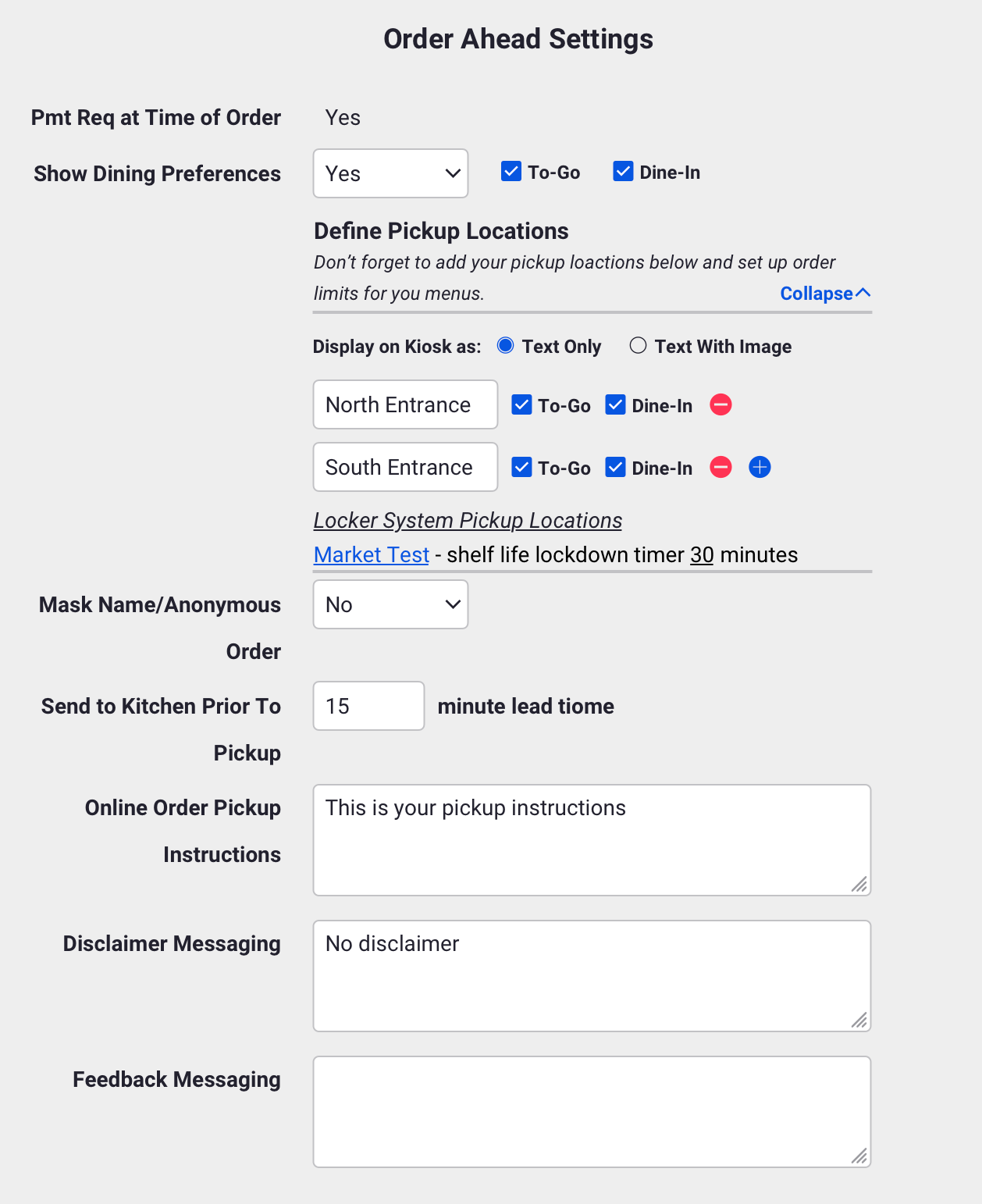 Set Order Limits for Time Slots
You can also set order limits for particular time slots, meaning that once that number of people select that time slot for their order, the time slot will not be available to other customers. This helps prevent backups in the kitchen. 
Please note that the pickup location and pickup times change depending on not just datetime but also on inventory. Therefor, your OrderAhead kiosk must be online for your customers to use this feature, so that it can communicate with the rest of your system. 
Log into ADM
Select the Menu option on the main menu, and choose Self Service from the drop-down options
Find the particular menu you would like to edit, and select Set Limits from the Order Limits column for that menu

You will then be taken to the Self Service Menu Order Limits screen for that menu, where you are able to make any adjustments required

Creating an OrderAhead Menu
Once the above steps are complete, please visit OrderAhead Features: ADM - Setting Up Menus / Item Buttons to create your OrderAhead menu. 
Tax Settings
If you are using OrderAhead in addition to other services, you have multiple types of taxes that must be applied to your products. See ADM - Tax Mapping and Creating Tax Rates to see how unique tax settings may apply to your needs. 
Utilizing Lockers 
If lockers are enabled at your organization, you can use them as your pickup locations. You can learn more by reading Lockers – Operator Guide: Setup & Maintenance. 
The Customer Experience
Customer Experience Walkthrough
Please see the following walkthrough for an example of what your customers will see. You may also find this walkthrough at MM6 OrderAhead Walkthrough | 365 Retail Markets. 
To learn more about the customer experience, continue reading this article below. 
What the End User Sees
When a user approaches the kiosk, they will scan in or enter their account credentials as normal. Next, they will see a screen with all location options listed. The Pickup locations may have images (such as in the first image below), or text only (see the second image). 
If your organization only has one location, this step will be skipped, and they will proceed to the next screen.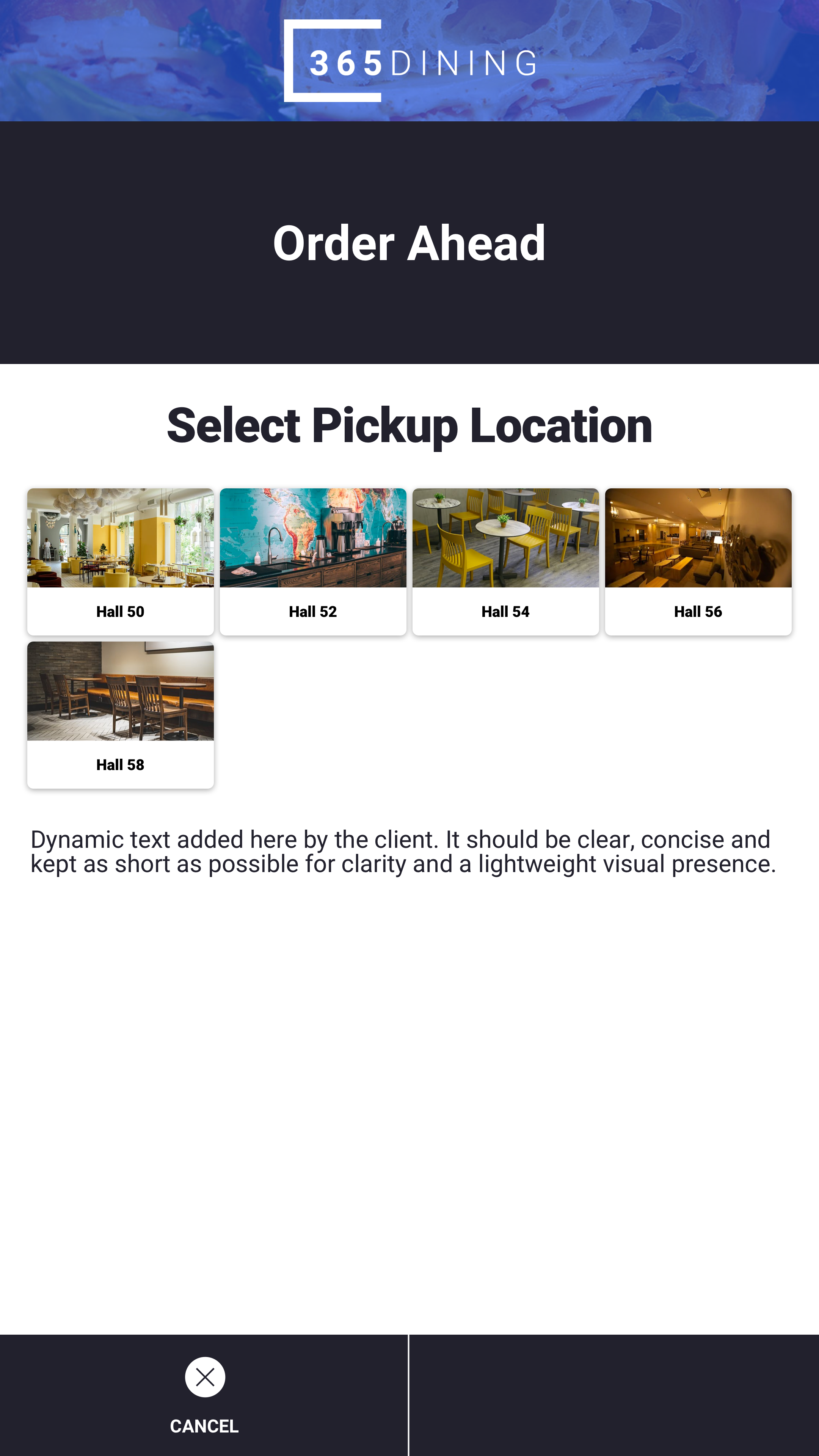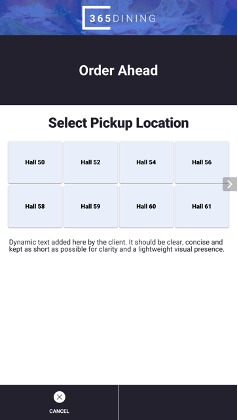 Once they have selected the pickup location, they will then choose if they would like their order today or tomorrow, and will select the time slot for the order. The time slots are broken up into 15 minute increments, and the earliest time shown will be the next 15-minute window from the current time.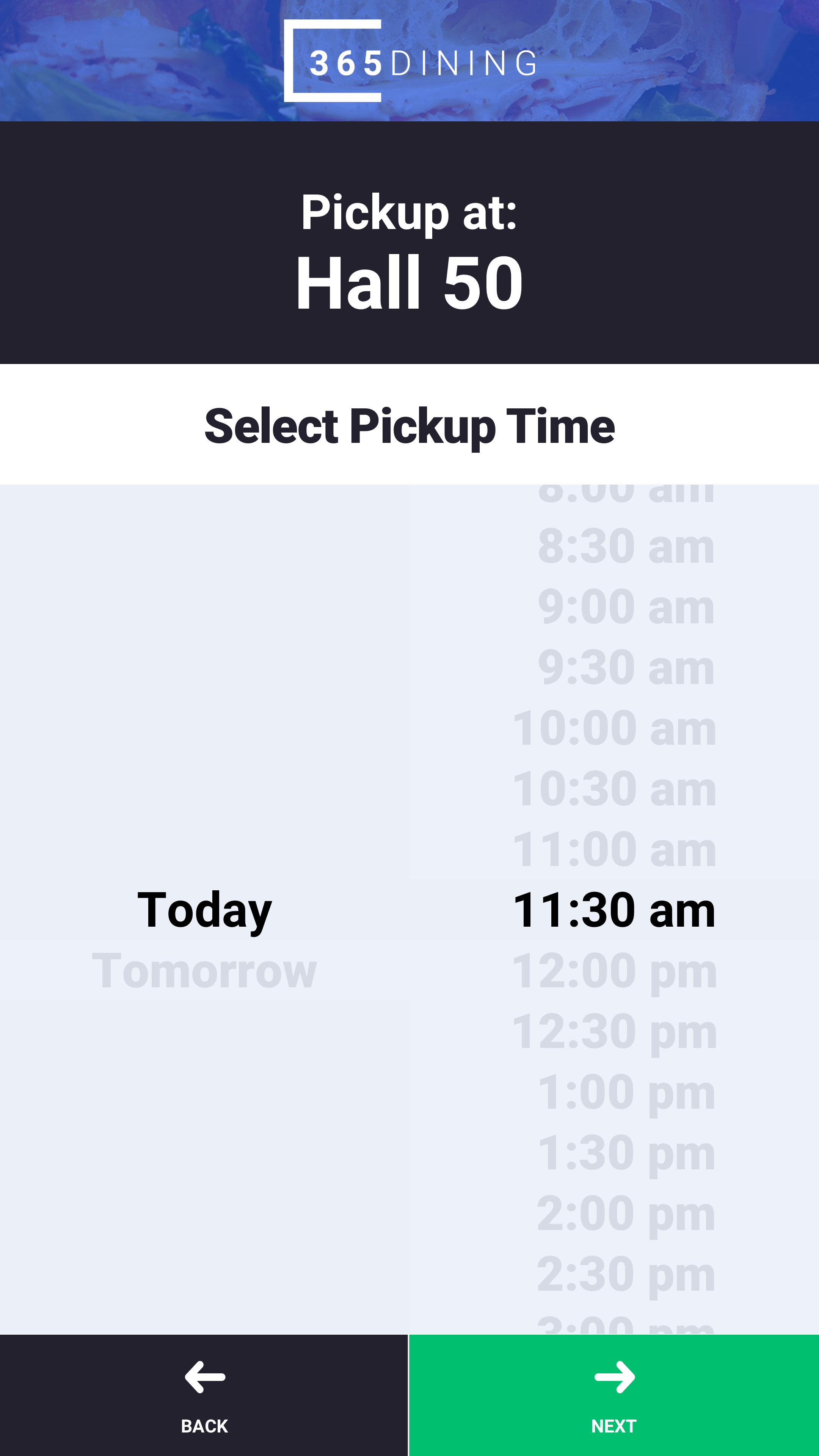 After they select the time they would like, they then proceed to the menu to order as normal.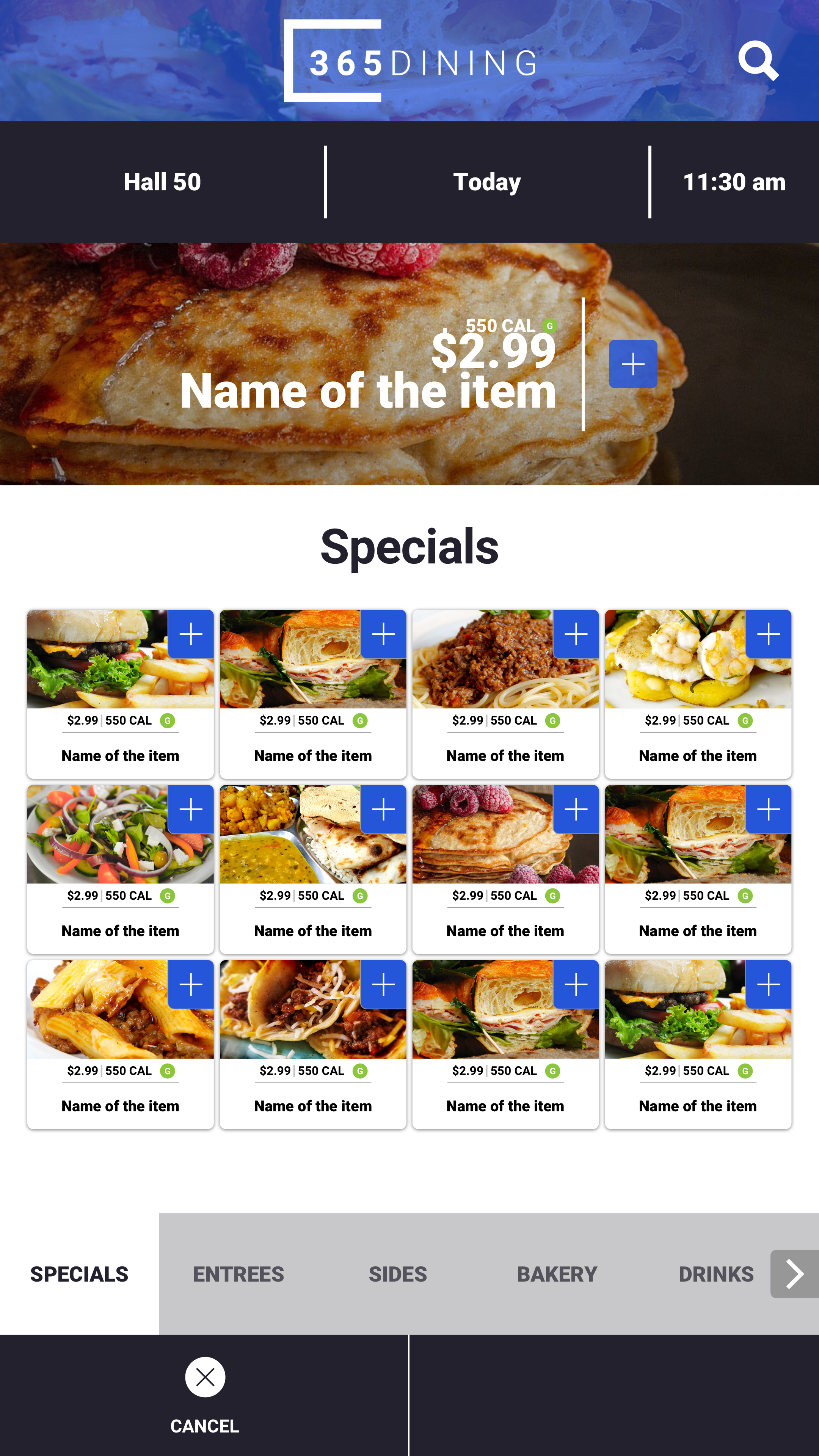 Once the customer has completed shopping, they will proceed to their cart to check out. The cart screen will show the summary of their items, as well as confirmation of the Pickup Time and Pickup Location for their order.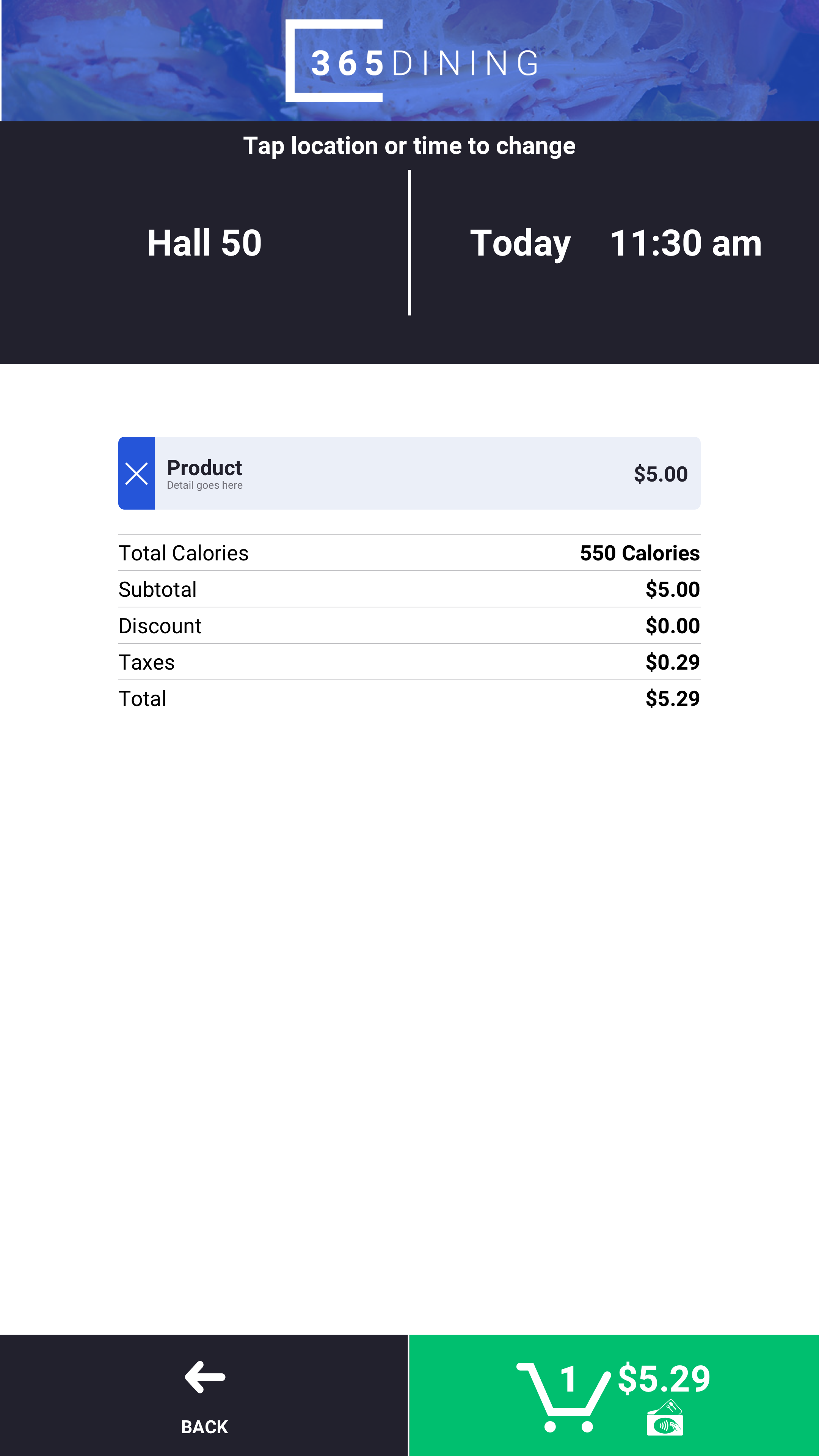 They can then select an email, text, or printed receipt. All of these options will list the Pickup Time and Pickup Location for the order.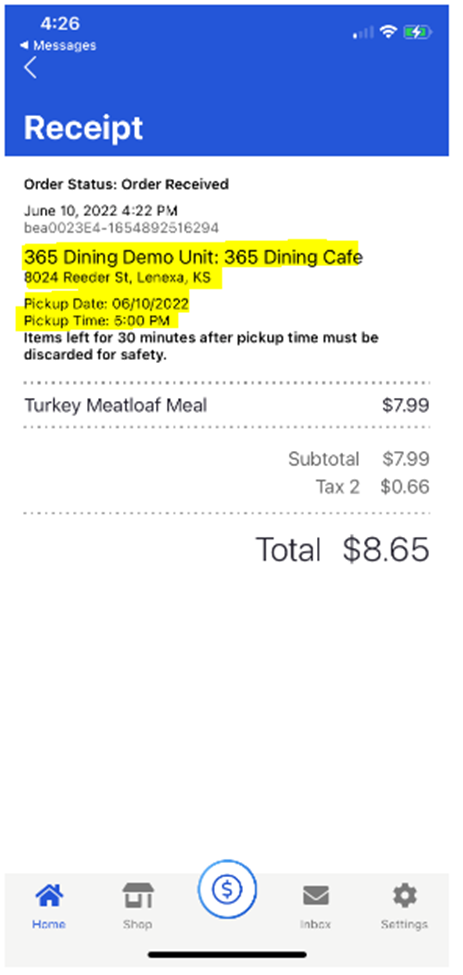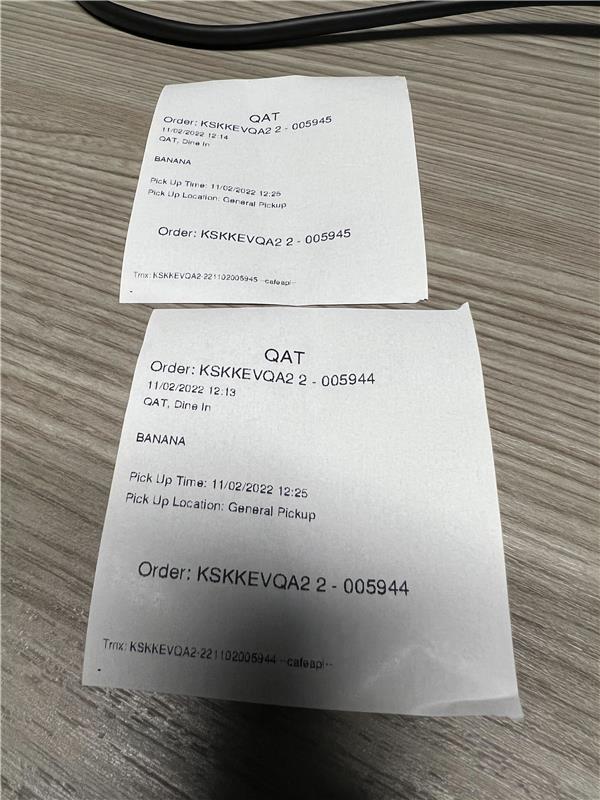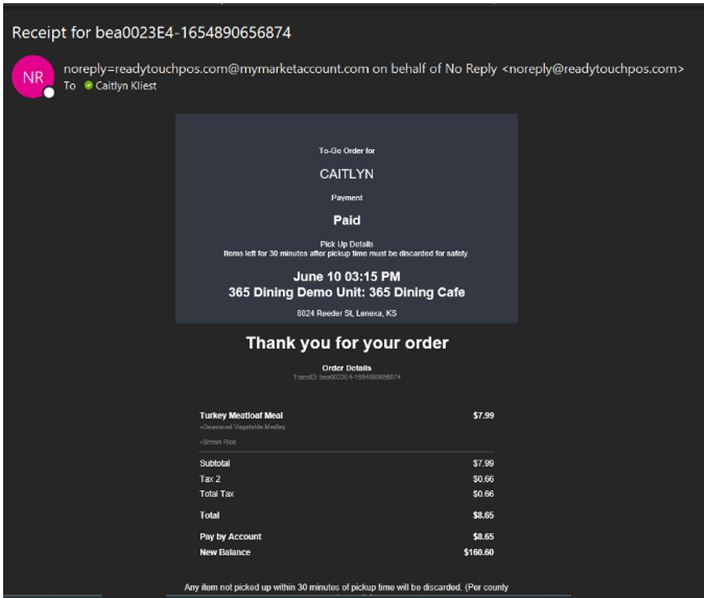 For instructions on printer settings, such as how to consolidate kitchen chits, please see the 365Dining - OrderAhead Operator Guide.
If the MM6 device is Offline
If the MM6 device is offline, the customer will order and checkout without the OrderAhead feature. A message will display, stating that the OrderAhead feature is unavailable at this time, please try again later.