Introduction
Thank you for purchasing a Temperature Sensor System from 365 Retail Markets. This document will assist you in installing and configuring your system. Before you begin you should have:
Received your sensors
A live and active internet connection
Kiosk keys
An active email address to receive sensor notifications
Hardware Installation
Unpack and identify your hardware. If you have a different gateway, you may be dealing with the Monnit ALTA gateway and sensor(s). If so, see ALTA Gateway Installation.


USB
Communication
Gateway dongle


Wireless
Temperature
Sensor

The USB dongle will go into the USB port on the CPU which is inside the kiosk.


Record the sensor and gateway IDs and codes that are located on the side and back of the devices.



With your device IDs handy, contact 365 Retail Support at 888-365-6282 and arrange for a technician to remotely install the necessary software on your kiosk. This process will take the kiosk offline for about 30 minutes, so schedule accordingly.



Insert batteries into your Wireless Sensors. Be sure to fully insert the coin battery. You may need a paperclip or other small object to push the battery all the way in.


Click HERE to view a video about how to insert a battery.


The 365 Retail Support technicians will now reboot the kiosk PC. You can take your temp sensor, apply the double-sided tape.

Click HERE to see a video about editing and configuring iMonnit sensor settings.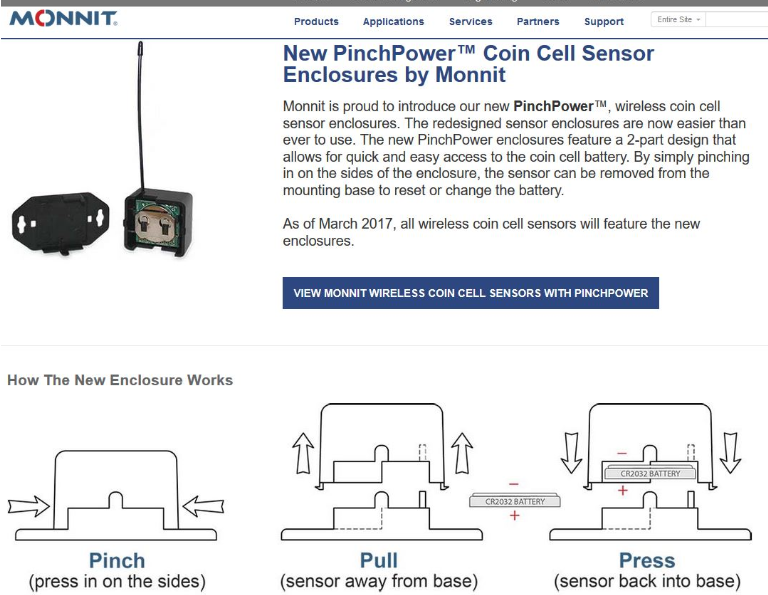 You are now ready to physically place your sensors in the cooler or freezer.
Before you install your sensors, take note of the sensor ID located on the side of the sensor and which cooler each sensor is being installed. You will need to provide this information to the 365 Support technician to ensure accurate reporting. Also be sure to place your sensors where they will not be damaged when the cooler is being restocked.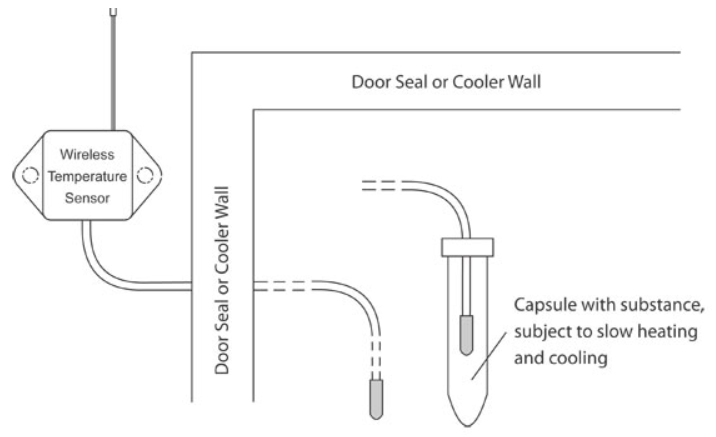 Confirm with the support technician that the sensors are successfully communicating with the USB gateway.
Notification Configuration
Your support technician will now configure notifications to be sent during certain sensor events. These notifications can be sent to a single email address, single mobile phone or multiple addresses and mobile phone numbers. Typical notifications are configured as follows:
If the temperature reading for sensor Cooler#1 is greater than XX degrees, notify the following email addresses and\or mobile phone numbers.
If the battery level for sensor Cooler#1 is less than 10%, notify the following email addresses and\or mobile phone numbers.

Click HERE to learn more about how to set up an iMonnit account and Monnit wireless sensor network.
FAQs
How long do the sensor batteries last?
The average life span of a wireless sensor varies depending on how often the sensor is set-up to transmit to the USB Communication Gateway. Your sensors will be configured to transmit temperature readings every 60 minutes. On average you can expect over one year of battery life.
How far away from the kiosk can I install the sensors?
The recommended maximum range is 250 to 300 feet from the USB Communication Gateway.
Can I add additional sensors to my system at a later date?
Yes, contact 365 Retail Markets at (888) 365-7382 to purchase additional sensors at any time.
How many sensors can be added to a single USB Communication Gateway?
Up to 100.
What happens if my sensor stops communicating with the gateway?
An email or text notification can be configured to alert you for this event.
Click HERE to learn more about creating new notifications in iMonnit.
How do I mount the wireless sensors?
We have included screws and double-sided tape in the deployment kits. These options should allow you to mount the hardware to most types of material.
What do the email notifications look like?
The exact message is configurable, but a typical notification would read:
Sensor: Cooler#1 - 16022
Sensor Type: Temperature
Network: Jenkins Enterprises 2 - Chicago IL
Date: 3/21/2012 1:05 AM
Reading: 72.5° F
Cooler#1's temperature is above 50 degrees!
Click HERE to see a video about iMonnit notification settings.
Where should I mount my sensors?
Cooler and freezer design vary, but you will want to place the sensors where they will not be damaged when the cooler is restocked, usually toward the back of the cooler.
What are the physical dimensions of the sensors?