Purpose
The article and video below explain how to copy planogram from and/or applying a planogram to a machine, which may save you time and effort in entering products into a VMS machine. 
Process
Navigate to Vending > All Machines and filter for the machine you'd like to edit.


Click on the far right to enter the Machine Edit page.


Regardless of whether it is an online or offline machine, you can click the Options dropdown on the top right, and select Create Planogram from Machine. 




On the following page, double-check that the layout and products are displayed as needed.


Name the planogram with a unique identifier and specify the machine model layout.


Save the planogram copy.


Applying the Planogram
Saved planograms can be used to apply layouts/products across similar machines to save time, but you may also find it useful when implementing devices on machines that have already been built out beforehand. 
When you go to Implementation to attach a device to an offline machine using the Merge with Machine feature, the offline machine's planogram will be retained if the DEX layout reported by the device matches the planogram.  If the device's DEX layout does not match the offline machine's current layout (and it often does not), then proceeding with implementation will save the planogram, but the machine will use the DEX layout instead.
You may contact a Parlevel Hero Support member to inspect the device's DEX layout and modify the machine's layout. Once the layout precisely matches the layout of the intended Planogram, you can go to Machine Edit > Advanced Settings, and on the right hand side, you will now have the option to Assign New Planogram, seen below.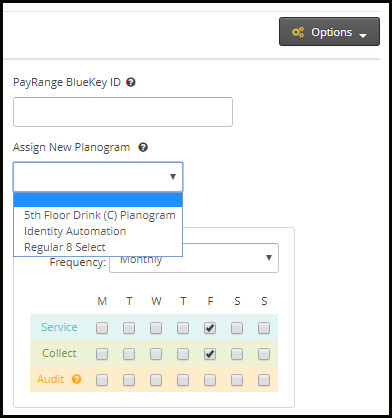 If you do not see the option for the intended Planogram in the dropdown, then the layouts do not match and must be adjusted.

Once selected, the Planogram and its products will be outfitted in the machine.